Sadulayev was killed in a special operation by Russian forces in Argun, east of Grozny, on June 17. In light of his involvement in three hostage takings and several attacks on government facilities, the Russian authorities have branded Basayev a terrorist and foresworn any negotiations with him.

Basayev, who is 41, began his one-man campaign against Russian rule over Chechnya in 1991 when he participated in the hijacking of a Russian passenger aircraft flying from the southern town of Mineralnye Vody to Turkey and thence to Grozny. Also in 1991, according to Czech journalist Petra Prochazkova, he signed up with the unofficial Confederation of Peoples of the Caucasus, and in 1992 led a battalion of volunteers from the North Caucasus who fought on the side of the Abkhaz in the 1992-93 war against Georgia.
Basayev And Budennovsk
When the Russian army marched into Chechnya in December 1994, it was Basayev who organized the defense of Grozny, according to a profile published on September 15, 2004, in "The New York Times." Six months later, in May 1995, some 11 members of his family, including a wife and two children, were killed in a Russian bombing raid. It was apparently in retaliation for their deaths that Basayev and a group of some 130 fighters set out to drive north into the Russian heartland to stage a major reprisal. Halted by traffic police in Budennovsk, Stavropol Krai, he seized a local hospital, taking some 1,000 people hostage. After two attempts by Russian forces to release the hostages failed, Basayev negotiated their release and his own safe conduct back to Chechnya live on Russian television with then-Russian Prime Minister Viktor Chernomyrdin, a feat that made him a hero in the eyes of many Chechens.

In August 1996, Basayev played a key role in the successful attack on Grozny that led to the signing of a cease-fire and the Khasavyurt accord that ended the war. Then, in January 1997, he ran unsuccessfully against former Chechen commander in chief Aslan Maskhadov in a presidential election hailed by both Russia and the international community as free and fair. At that time, Basayev told journalists that he envisaged Chechnya as a moderate Islamic state within the CIS that could serve as an intermediary between Russia and the Muslim world. Maskhadov, who won the election with some 66 percent of the vote to Basayev's 23 percent, offered Basayev a government post that Basayev initially refused. Over the next 12-18 months, Basayev was in and out of the cabinet, occupying the post of prime minister or acting prime minister. But Prochazkova describes him as having been aimless and bored with civilian life.

Basayev And Khattab
In late 1998, Basayev, together with two fellow field commanders, sought unsuccessfully to impeach Maskhadov for taking too soft an approach toward relations between Chechnya and Moscow. Then, in early 1999, he aligned with the radical Islamists who sought to establish an independent Islamic state in the North Caucasus, and who set about undermining Maskhadov's position to that end. And in early August 1999, Basayev, together with fellow field commander Khattab, launched the ill-fated incursions into neighboring Daghestan that impelled Russian leadership to embark on a new war.

Basayev has played a key role in the resistance since the onset of the second war, despite incurring serious injuries in February 2000 during the retreat from Grozny that necessitated the amputation of one leg. Responding in the fall of 2004 to questions posed to him by the "Toronto Globe and Mail," he made light of his disability, claiming that he can still walk 50 kilometers a night.

In those responses, Basayev professed to have been "shaken" by Moscow's response to the seizure by Basayev's men of some 1,000 hostages in Beslan in September 2004. He claimed he did not anticipate that President Vladimir Putin would sacrifice the lives of children -- especially Ossetian children, given that Ossetia has always been a Russian ally in the North Caucasus. Basayev implied that he anticipated that Moscow would comply with the hostage takers' demand for the withdrawal of Russian forces from Chechnya. "I thought I was doing the Russians a favor by showing them the way out of a blind alley," Basayev said.
In Command
Basayev then warned that as long as Russia continues to violate the Geneva Conventions in Chechnya, his fighters will do likewise. "It is the enemy who sets the limits to our actions, and we are free to resort to the methods and actions that the enemy first employed against us," Basayev argued. "We are ready, and want to wage war according to international law, it is even to our advantage to do so in terms of protecting the civilian population. But unlike President Maskhadov, we do not want to be the only side to espouse those tactics." Basayev has, nonetheless, not perpetrated any further attacks since Beslan, perhaps having come to the conclusion that such actions are counterproductive. And the fact that Basayev's appointment followed Umarov's statement rejecting terrorism against civilians as a tactic suggests that Umarov is confident that Basayev has indeed moderated his approach.

But his previous track record, coupled with his role as purported mastermind of the Moscow theater hostage taking in October 2002, led both the UN and the U.S. government to designate his Riyadus-Salikhin battalion a terrorist organization in 2003. And he subsequently claimed to have contributed to the organization of a car-bomb attack on the pro-Moscow government headquarters in Grozny in December 2003, the bombing that killed pro-Moscow Chechen administration head Akhmad-hadji Kadyrov and seven other people in May 2004, and the multiple attacks in June 2004 on police and security facilities in neighboring Ingushetia.
Presidential Possibility

It could be argued that given both his military experience and his intermittent inclusion in the separatist government since 1997, Basayev is the logical candidate for the second most senior leadership post. (The only other candidate with comparable experience and influence is U.K.-based Foreign Minister Akhmed Zakayev.) Basayev's appointment as vice president creates an interesting quandary for the Russian leadership, insofar as under the Constitution of the Chechen Republic Ichkeria, it is the vice president who succeeds to the presidency in the event of the president's death. If, as Zakayev suggested in an interview in late May with RFE/RL's North Caucasus Service, the Russian leadership is indeed discussing ways to negotiate an end to the war, then the prospect of "Terrorist No. 1" Basayev acceding to the presidency could lend added weight to the arguments of those who favor a peace deal.
The Chechnya Conflict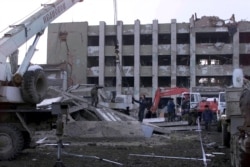 The aftermath of a December 2002 Chechen resistance attack on the main government building in Grozny (epa)


CHRONOLOGY
The
fighting in Chechnya
has raged, with short breaks, since 1994. It has brought misery, death, and destruction to the North Caucasus republic and to Russia as a whole. View an
annotated timeline
of the conflict.

ARCHIVE
RFE/RL's complete coverage of Russia's war-torn Republic of Chechnya.