Umarov also praised his predecessor, Abdul-Khalim Sadulayev, who was killed by Russian special forces in Chechnya on June 17, and urged Russia to leave the breakaway region.
'Most Odious Traitors'
Umarov said preparations were under way to take the Chechen separatists' fight for independence deeper into Russian territory with attacks on military targets.
In comments posted on the rebel website chechenpress.org today, Umarov also said a special unit is being formed to fight what he called "the most odious traitors" to the separatist cause -- an apparent reference to Chechnya's pro-Moscow administration.
Umarov said rebel forces this summer planned to expand their attacks to "many regions of Russia."
But, he stressed, they would target only military and police facilities. Civilians would be spared, except for those who participate in what he called "subversive activities against us."
In contrast to Chechen rebel field commander Shamil Basayev, Umarov has opposed attacks against civilians like the September 2004 Beslan school siege.
Continuing Sadulayev's Legacy
Umarov's threats to expand the Chechen conflict continues the move begun by his predecessor Sadulayev to create six so-called "fronts" in the war with Russia -- four in Chechnya itself, one for Daghestan and one for the remainder of the North Caucus region.
His remarks also appear to be an attempt to demonstrate that the resistance movement has survived Sadulayev's death June 17 at the hands of Russian special forces.
At the time, Ramzan Kadyrov, the prime minister of Chechnya's pro-Moscow government, said the rebels had been "beheaded" and that Sadulayev's death dealt "a decisive blow" from which the separatists would not recover.
Akhmed Zakayev, the foreign minister in the Chechen resistance government, said Umarov's new post does not signal a major shift in the overall goals of the separatist movement.
"The tactics of a guerilla war in underground conditions need to be regularly adjusted and changed. The strategic goals, of course, will not be revised." he told RFE/RL's North Caucasus Service in an exclusive interview on June 23.
Zakayev said the rebel leadership has consistently sought a political settlement with Russia with no reciprocation from Moscow -- which, he said, is set on resolving the Chechen conflict through force.
"In this situation, the Chechen leadership and armed forces believe it is necessary to expand the conflict zone and expand the zone of influence of those who are resisting the antihumanitarian regime established by the Kremlin," he said.
Zakayev added that given the level of local public dissatisfaction with the Russian-backed administration in Chechnya, the resistance will have no trouble finding a steady stream of recruits.
"In this republic today, there are people who are unhappy and who have taken up arms against this [pro-Moscow] regime," he said. "These are people who have experience in warfare."
The Chechnya Conflict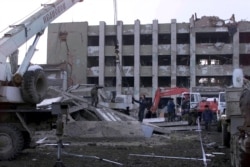 The aftermath of a December 2002 Chechen resistance attack on the main government building in Grozny (epa)


CHRONOLOGY
The
fighting in Chechnya
has raged, with short breaks, since 1994. It has brought misery, death, and destruction to the North Caucasus republic and to Russia as a whole. View an
annotated timeline
of the conflict.

ARCHIVE
RFE/RL's complete coverage of Russia's war-torn Republic of Chechnya.