Sadulayev's predecessor Aslan Maskhadov consistently forbade the fighters subordinate to him either to target civilians or to extend hostilities beyond Chechnya's borders. Sadulayev, by contrast, issued a series of decrees in May 2005 setting up six "fronts:" four within Chechnya, one in Daghestan, and one for the rest of the North Caucasus. The North Caucasus front in turn is subdivided into seven sectors: Ingushetia, North Ossetia, Kabardino-Balkaria, Stavropol, Karachayevo-Cherkessia, and Krasnodar Krai. Those six fronts, according to chechenpress.org on June 17, comprise 35 sectors, each of them the base for 10-20 separate groups of resistance fighters. Veteran field commander Doku Umarov, whom Sadulayev named in June 2005 as his vice president and designated successor, concurred with the decision to extend the struggle against Russian hegemony to other North Caucasus republics. In January 2006, Sadulayev issued a decree creating a council of alims (Muslim scholars) covering the entire North Caucasus.
Changes At The Top
In August 2005, Sadulayev named radical field commander Shamil Basayev, the man who claimed responsibility for the hostage takings in Moscow in 2002 and Beslan in 2004 and for the terrorist attack in May 2004 that killed then-pro-Moscow Chechen administration head Akhmed-hadji Kadyrov, as first deputy prime minister in the separatist government. Apti Bisultanov, who is a former Chechen minister of social security, told "Caucasus Times" in a June 18 interview that he thinks Basayev will continue to serve as first deputy prime minister under Umarov, and will "operate within the restrictions imposed on him by that official post."
And just weeks before his death, Sadulayev named Akhmed Zakayev, formerly Maskhadov's envoy in Europe, as foreign minister. Earlier this year, Zakayev engaged in an Internet polemic with former Information Minister Movladi Udugov, who rejects an independent Chechen state in favor of an Islamic state encompassing the entire North Caucasus and who argues that resistance fighters should not be constrained by the norms of international law. Some Russian commentators construed Zakayev's nomination as foreign minister as strengthening the moderate faction within the resistance vis-a-vis a perceived more radical wing grouped around Udugov and Basayev. Zakayev himself, however, has consistently downplayed speculation about the existence of radical and moderate wings within the resistance.
Umarov still has to be confirmed as president by the State Defense Council. Zakayev told RFE/RL's North Caucasus Service on June 17 that this is likely to happen "within a few days." On June 20 he was less specific, saying only that he thinks Umarov will be confirmed "in the very near future," after which, in accordance with the Chechen Republic Ichkeria Constitution adopted in 1992, Umarov will name a vice president who will succeed him in the event that he too is killed.
Patriotic Duty To Fight
Umarov is widely acknowledged and respected as a skilled, experienced, intelligent, and courageous commander. Born in April 1964 in the village of Kharsenoi in Shatoi Raion in southern Chechnya, Umarov graduated from the construction faculty of the Oil Institute in Grozny, according to a brief biography posted on chechenpress.com on June 21. He told RFE/RL's Russian Service last summer that he was in Moscow when the first Russian-Chechen war broke out in 1994, and as a patriot considered it his duty to return to Chechnya to fight.
Zakayev told RFE/RL's North Caucasus Service on June 20 that Umarov served under him during the first war, when Zakayev commanded the southwestern front, and that they have retained "very warm, very friendly" relations ever since then. During the first (1994-96) war, Umarov headed the Borz (Wolf) spetsnaz battalion that was subsequently expanded into a regiment, and was promoted to the rank of brigadier general; he also won two prestigious awards for valor.
Following the Khasavyurt accord that ended the first war in August 1996, Umarov served under Maskhadov (who was elected president in January 1997) as secretary of the National Security Council, a post that he told RFE/RL entailed constant efforts to restrain those of his fellow field commanders who were at odds among themselves. When Russia again invaded Chechnya in the late summer of 1999, Umarov again played a key role within the resistance. According to Zakayev, they were both wounded during the early stages of the fighting and were hospitalized together "in the same country," which he did not name.
Terrorism Counterproductive
Umarov, like Sadulayev, rejects the use of terrorism as a tactic: he told RFE/RL's Russian Service in a May 2005 interview that, "If we resort to such methods, I do not think any of us will be able to retain his human face." Zakayev stressed in his June 20 interview with RFE/RL's North Caucasus Service that unlike some people who in a state of "desperation" were "prepared to do anything" (a possible allusion to Basayev), Umarov "always acted responsibly, he assessed all his [planned] actions [beforehand to determine] how acceptable and beneficial they were likely to be to the people both at the present moment and in the future." "From that point of view," Zakayev continued, "Doku Umarov without doubt belongs to the ranks of thinking people, thinking politicians, thinking statesmen."
Anzor Maskhadov, Aslan's son, similarly described Umarov in a June 19 interview with AP as "bold, brave, and courageous.... Everyone, including fighters in neighboring republics, will give their oath to serve him."
In an interview with RFE/RL's North Caucasus Service in April 2006, Umarov admitted that the resistance is short of money, and cannot therefore provide to groups of militant fighters elsewhere in the North Caucasus all the help that they need. Umarov claimed that the men under his command are ready and able to launch any operation at any time, and that the only constraint on a major operation is the financial outlay involved. For that reason, he explained, such operations are undertaken "only when it is politically expedient to do so."
Asked whether young Chechens are still filling the resistance ranks, Umarov said that the lack of money and competent instructors prevents him from taking all those young men who aspire to join the resistance. For that reason, only those with the greatest powers of endurance are selected, given that "the most terrible thing about fighting in the forests is the cold" -- the remainder are weeded out. He added with clear regret that "in a situation where we can't take them and they can't live in the lowlands, they have to leave Chechnya."
Umarov rejected as Russian propaganda media reports that Arab "jihadist" commanders have replaced Chechens at the head of the various resistance groups. He said that there are no more than four or five such Arab commanders who "travel all over the place to wage the jihad." But for Chechens, Umarov explained, the first priority is liberty, not jihad: "Once we win our freedom, only a free man will be able to be a Muslim." He clarified this point, stressing that the resistance wants above all to build a free Chechen republic under the name of Nokhchiichoe (Chechnya).
Umarov's confirmation as president will reverse the previous relationship between Umarov and Basayev, in that to date Umarov has been subordinate to Basayev in the latter's capacity as overall military commander. But it seems unlikely that reversal will result in a major shift in resistance tactics, even though Umarov, like Sadulayev, has said he rejects terrorism.
The fact that Basayev has not undertaken any major attacks that targeted civilians since the Beslan hostage taking could suggest that he has finally realized that such attacks are counterproductive. A video clip of Umarov and Basayev, shot in early April and posted 10 days ago on chechenpress.org, gave no indication of any tensions between the two. Apti Bisultanov told "Caucasus Times" on June 18 that the greatest danger to the resistance forces is that their support base among the population is dwindling as a result of the ongoing arbitrary abductions and killings perpetrated by pro-Moscow Chechen police and security forces.
The Chechnya Conflict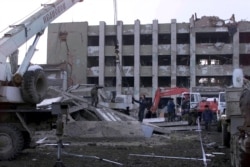 The aftermath of a December 2002 Chechen resistance attack on the main government building in Grozny (epa)


CHRONOLOGY
The
fighting in Chechnya
has raged, with short breaks, since 1994. It has brought misery, death, and destruction to the North Caucasus republic and to Russia as a whole. View an
annotated timeline
of the conflict.

ARCHIVE
RFE/RL's complete coverage of Russia's war-torn Republic of Chechnya.