Chechen Rebels Pledge To Fight On After Leader Killed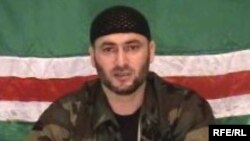 Abdul-Khalim Sadulayev (file photo) (RFE/RL) June 18, 2006 -- Chechen rebels pledged today to press ahead with their fight to end Russian rule in Chechnya despite the death of their leader, Abdul-Khalim Sadulayev.
In a statement on a rebel website, the separatists described Sadulayev as a "martyr" and said his death will encourage other fighters to pursue their holy war.
Russian special forces and Chechen troops loyal to Moscow say they killed Sadulayev in a gun battle in his hometown of Argun on June 17.
(Reuters)