Chechen Rebel Leader Sadulayev Reported Killed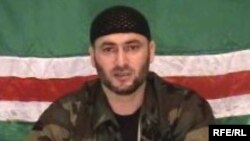 Abdul-Khalim Sadulayev (file photo) (RFE/RL) June 17, 2006 -- The prime minister of Chechnya says top rebel leader Abdul-Khalim Sadulayev was killed today near the capital, Grozny.
Prime Minister Ramzan Kadyrov said in a written statement that Sadulayev was killed in his hometown of Argun.
Argun police chief Ali Tagirov said local officers and a special police force acted on a tip and killed Sadulayev when he offered resistance.
NTV television reported that police also killed a militant who accompanied Sadulayev while two other rebel fighters managed to escape.
Sadulayev had succeeded Chechen rebel leader Aslan Maskhadov after he was killed by Russian forces last year.
(compiled from agency reports)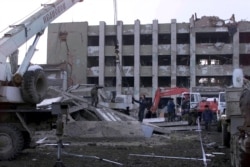 The aftermath of a December 2002 Chechen resistance attack on the main government building in Grozny (epa)


CHRONOLOGY
The
fighting in Chechnya
has raged, with short breaks, since 1994. It has brought misery, death, and destruction to the North Caucasus republic and to Russia as a whole. View an
annotated timeline
of the conflict.

ARCHIVE
RFE/RL's complete coverage of Russia's war-torn Republic of Chechnya.