Chechen Resistance Leader Names Chief Negotiator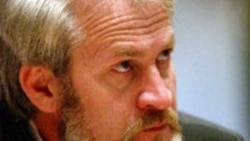 Akhmed Zakaev (file photo) 1 September 2005 (RFE/RL) -- Chechen President and resistance leader Abdul-Khalim Sadullaev issued a decree on 30 August empowering Deputy Prime Minister Akhmed Zakaev to represent Sadullaev and the Chechen government abroad.
Zakaev, who has been granted political asylum in the United Kigndom, is empowered to "conduct consultations with all interested parties on peacefully regulating the Russian-Chechen conflict," according to the decreee, which was posted on chechenpress.org on 31 August.
In the decree, Sadullaev repeated that "the leadership of the Chechen resistance is always open to realistic dialogue with Russia."
The decree was one of four posted on the website in connection with Sadullaev's
sweeping restructuring
of the resistance movement's executive and legislative branches.
See also:Basaev Rejoins Chechen Rebel GovernmentFor RFE/RL's full coverage of events in Chechnya, see "Crisis In Chechnya"