Usman Firzauli, the separatists' deputy foreign minister, told RFE/RL that Basayev was appointed by rebel leader Doku Umarov on June 27.
Umarov, himself the former vice president, rose to the head of the separatist government after his predecessor, Abdul-Khalim Sadulayev, was killed by Russian special forces on June 17.
As vice president, Basayev would automatically become acting president if Umarov were killed or stepped down from his position.
Basayev, who has claimed responsibility for the 2004 Beslan school siege, is the most wanted man in Russia.

The Chechnya Conflict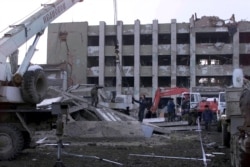 The aftermath of a December 2002 Chechen resistance attack on the main government building in Grozny (epa)


CHRONOLOGY
The
fighting in Chechnya
has raged, with short breaks, since 1994. It has brought misery, death, and destruction to the North Caucasus republic and to Russia as a whole. View an
annotated timeline
of the conflict.

ARCHIVE
RFE/RL's complete coverage of Russia's war-torn Republic of Chechnya.