Putin said the plan aims to prevent the spread of nuclear weapons by setting up international enrichment centers under the control of the Vienna-based International Atomic Energy Agency.
"We have managed to reach several agreements on the problems of the most importance in international and mutual agenda," Putin said. "We have approved a mutual declaration based on our parallel initiatives to secure development of atomic energy."
International Cooperation
Bush said the United States and Russia were ready to work together on other hot issues such as Iran's nuclear program and North Korea.
"We discussed North Korea and Iran, though difficult issues, made less difficult because Russia and the United States are willing to work together to send clear messages to both governments that their nuclear weapons ambitions are not acceptable," Bush said.
The two presidents dwelt on the latest outbreak of violence in the Middle East. Bush blamed the Lebanese Hizballah for the violence, and demanded that they lay down its arms. He also called on Syria to pressure the militia group into doing so.
"I think you'll find all parties here, you know, want the violence to stop," Bush said. "My take is that the best way to stop the violence is to understand why the violence started in the first place. And that's because Hizballah has been launching rocket attacks out of Lebanon into Israel, and because Hizballah captured two Israeli soldiers. That's why we have violence."
Putin said Israel's security concerns were "legitimate," but he also said "use of force must be balanced."
Russia's WTO Bid
Russia's entry into the World Trade Organization had been expected to be high on the agenda during the meeting. Bush said the United States wanted Russia in the global trade body, but that the negotiations will have to continue.
"We're tough negotiators," Bush said. "And the reason why is because we want the agreement that we reach to be accepted by our United States Congress. It has to be approved. Any trade agreement has to be approved. But I believe we are fair negotiators. And our negotiators come to the table trying to achieve the objective that I have set out -- that we want Russia accession into the WTO. That's what we want. We will continue negotiating. We've found accommodation in a lot of areas. But there is more work to be done."
Russia's Democratic Development
It was expected before the meeting that the state of democracy in Russia also would be discussed. Afterward, Bush said he understands Russia would have a different democracy that the one in the United States.
"I fully understand, however, that there will be a Russian style democracy," Bush said. "I don't expect Russia to look like the United States. As Vladimir [Putin] pointedly reminded me last night, we have a different history. Different traditions."
Russia has been accused by Western, including U.S., officials of backtracking on democratic reforms.
Bush arrived in Russia on July 14 for the G8 summit, which will begin its work on the morning of July 16.
MORE: For more coverage of this topic from RFE/RL's Russian Service in Russian, click here.
Russia And The West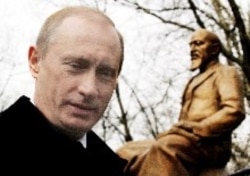 (epa)
COOPERATION, CONFLICT, CONFRONTATION: Relations between Russia and the West are notoriously volatile. "To see the kind of relationship that presidents Bush and Putin have developed and to see Russia firmly anchored in the West, that's really a dream of 300 years, not just of the post-Cold War era," then-national security adviser Condoleezza Rice said in May 2002.
But observers have increasingly called into question the extent of the shared values between Russia and the West, particularly on issues relating to the transformations going on in other former Soviet countries.
RELATED ARTICLES
Silent Diplomacy Versus Public Criticism
Analysts Say New Arms Race Unlikely
Moscow 'Unhappy' With Outcome Of CFE Conference
Moscow And Washington Spar Over WTO Membership
Russia Gears Up To Improve Its Image Abroad
Experts Urge U.S. To Rethink Relations With Russia
U.S. Official Says Russian NGO Law Part Of Antidemocratic Trend
ARCHIVE
To view an archive of RFE/RL's coverage of Russia, click here; to view an archive of RFE/RL's coverage of U.S.-Russian relations, click here.

SUBSCRIBE
For news and analysis on Russia by e-mail, subscribe to "RFE/RL Russia Report."