Some U.S.-based analysts believe the Bush administration has decided that it should refrain from public criticism of Putin's domestic policies to ensure continued cooperation on policies regarding Iran and North Korea.
Unclear Policy
Stephen Hanson, professor of political science at the University of Washington in Seattle, however, questions this policy.
"It's not clear to me why there would be a trade-off of this sort," Hanson said. "I mean, is it really the case, for example, that Putin will do a deal where in return for us never criticizing lack of democracy in Russia the whole policy toward [the nuclear power plant that Russia is building for Iran in] Bushehr and Iran's role in the world system changes? It strikes me that's not really that important to Putin. Yes, he's annoyed if we criticize Russia and I think there is a visceral nationalist response to it. But the idea that somehow this is what's really driving Russian foreign policy, and we can get so many good results by toning down criticism on democracy. I mean, so far the results are terrible on that. For six years there has been a toning down on these issues, and U.S.-Russian relations have just gotten worse and worse."
And public criticism can sometimes backfire. At a conference in Vilnius on May 4, Vice President Dick Cheney made harshly critical remarks about Russia's democratic development. However, he then traveled on to Kazakhstan, where he praised the economic and political progress being made there.
The Kazakhstan Problem
Hansen says that Cheney undermined his own effectiveness by doing that. In its most recent annual survey of civil liberties and political rights around the world, Freedom House ranked Russia and Kazakhstan both as "not free."
Cheney's comments could cause a few uncomfortable moments in St. Petersburg, according to Johannes Linn, director of global economy and development at the Brookings Institution.
"Mr. Bush also faces a problem now in St. Petersburg because, of course [Kazakh President] Mr. [Nursultan] Nazerbayev will be there as a special guest also," Linn says. "And having recently had the vice president, on the one hand, chide the Russians for lack of democracy and then immediately after going and praising in effect the Kazakhs is, of course, a bit of a difficulty here. And I think it will play out, and it will be interesting to see what the press will ask Mr. Bush -- how he has in fact confronted these two players in terms of their democratic credentials."
Playing It Straight
So perhaps the best way for the United States to deal with Russia is to put everything on the table.
"What I prefer to a kind of policy of criticizing through surrogates and then dealing privately would be to criticize publicly and deal publicly," Hansen says. "In other words, we say, 'Here're the criticisms we have and here is the deal we can offer.' You can say we want Russia to be in the WTO [World Trade Organization] -- that's why we're announcing it's going to happen. We want to create a relationship with Russia on security issues in Eurasia that will be long lasting and enduring and a nuclear deal is part of that. And, nonetheless we want to see free and fair electoral institutions preserved in 2007-08. There would be consequences for G8 membership after 2008, if President Putin's transition is not handled in a democratic manner."
Hanson acknowledges that Bush criticizing Russia on democracy will not necessarily lead to any changes in Putin's domestic policies. But he says that the lack of a clear U.S. position on the necessity of shoring up Russia's democratic institutions sends the wrong signal.
MORE: Follow the events of the G8 summit in Russian at the site of RFE/RL's Russian Service.
Russia And The West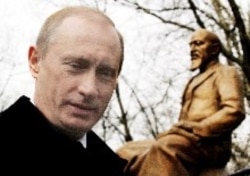 (epa)
COOPERATION, CONFLICT, CONFRONTATION: Relations between Russia and the West are notoriously volatile. "To see the kind of relationship that presidents Bush and Putin have developed and to see Russia firmly anchored in the West, that's really a dream of 300 years, not just of the post-Cold War era," then-national security adviser Condoleezza Rice said in May 2002.
But observers have increasingly called into question the extent of the shared values between Russia and the West, particularly on issues relating to the transformations going on in other former Soviet countries.
RELATED ARTICLES
Silent Diplomacy Versus Public Criticism
Analysts Say New Arms Race Unlikely
Moscow 'Unhappy' With Outcome Of CFE Conference
Moscow And Washington Spar Over WTO Membership
Russia Gears Up To Improve Its Image Abroad
Experts Urge U.S. To Rethink Relations With Russia
U.S. Official Says Russian NGO Law Part Of Antidemocratic Trend
ARCHIVE
To view an archive of RFE/RL's coverage of Russia, click here; to view an archive of RFE/RL's coverage of U.S.-Russian relations, click here.

SUBSCRIBE
For news and analysis on Russia by e-mail, subscribe to "RFE/RL Russia Report."