Kremlin deputy spokesman Dmitry Peskov said Cheney's remarks at a conference in Vilnius were a highly "subjective" view of the processes now are going on in Russia.
Cheney told a gathering of leaders from the Baltic and Black Sea regions that Russian "opponents of reform are seeking to reverse the gains of the last decade," and accused the Russian government itself of "unfairly and improperly" restricting civil society, the media, and political parties.
Cheney said the Russian government's actions have already been "counterproductive" and warned they "could begin to affect relations with other countries."
He also said Russia should stop using its vast energy supplies to bully its neighbors.
The U.S. vice president added, however, that Washington does not believe "Russia is fated to become an enemy."
The meeting in the Lithuanian capital, Vilnius, entitled "Common Vision For A Common Neighborhood," brings together some of the EU's and NATO's newest members and their neighbors.
(AP, Reuters)
Russia And The West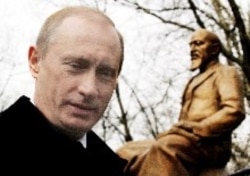 (epa)
COOPERATION, CONFLICT, CONFRONTATION: Relations between Russia and the West are notoriously volatile. "To see the kind of relationship that presidents Bush and Putin have developed and to see Russia firmly anchored in the West, that's really a dream of 300 years, not just of the post-Cold War era," then-national security adviser Condoleezza Rice said in May 2002.
But observers have increasingly called into question the extent of the shared values between Russia and the West, particularly on issues relating to the transformations going on in other former Soviet countries.
RELATED ARTICLES
Silent Diplomacy Versus Public Criticism
Analysts Say New Arms Race Unlikely
Moscow 'Unhappy' With Outcome Of CFE Conference
Moscow And Washington Spar Over WTO Membership
Russia Gears Up To Improve Its Image Abroad
Experts Urge U.S. To Rethink Relations With Russia
U.S. Official Says Russian NGO Law Part Of Antidemocratic Trend
ARCHIVE
To view an archive of RFE/RL's coverage of Russia, click here; to view an archive of RFE/RL's coverage of U.S.-Russian relations, click here.

SUBSCRIBE
For news and analysis on Russia by e-mail, subscribe to "RFE/RL Russia Report."