Russian Foreign Minister Dismisses Cheney Comments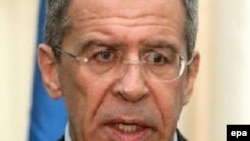 Russian Foreign Minister Sergei Lavrov (epa) May 6, 2006 -- Russian Foreign Minister Sergei Lavrov today rejected U.S. Vice President Dick Cheney's criticism of Kremlin policies but said it will not derail Russia's cooperation with the West.
Lavrov said in a statement posted on the Foreign Ministry's website that Cheney's criticism that the Kremlin was backtracking on democracy and using energy to blackmail its neighbors was unfounded.
Lavrov blamed Cheney aides and advisers for the vice president's critical assessment of Russian policies.
(AP)