Russian authorities have allowed an anti-G8 event, the Social Forum, to take place in the Kirov Stadium on the edge of the city. But an aborted anti-G8 march today suggests that St. Petersburg will not see the large and often violent protests that traditionally accompany the annual G8 summits.
Russia recently purchased armored water cannons from Israel to disperse anti-G8 protests. But it looks like the vehicles will stay in the garage.
Locked Gates
When militants shouting "No to the G8" attempted to leave the territory of the Kirov Stadium to stage a peaceful demonstration, they ran into a locked gate and a tight police cordon.
"What is happening is one the most shameful pages of Putin's police Russia," said veteran human rights campaigner Lev Ponomaryov, who led the protest
Riot police officers vastly outnumbered the 200 or so demonstrators.
The expense and hassle of obtaining visas, the cost of hotels in St. Petersburg, and fear of the Russian police mean few foreign activists have bothered traveling to Russia.
But even Russian activists have not turned up in large numbers, partly due to the limited tradition of street protests in the country -- no more than 1,500 people visited the Social Forum.
Stopping The Protest Before It Starts
Organizers also accuse security forces of undermining the impact of the forum by detaining activists, taking them off trains and buses, and warning them to stay away from demonstrations.
According to media reports, a member of the radical National Bolshevik party was arrested and beaten by police officers, who tried to force him to write an appeal to fellow activists to disrupt the forum.
Maksim, a young anarchist hiding his face behind a T-shirt, says he was detained twice on his way from the city Samara, on the Volga.
"Police arrested us twice on the way," Maksim said. "The day before yesterday I spent the night at the police station, they held us for 12 hours before letting us go. They treated us, with our backpacks stuffed with food and sleeping bags, as some kind of terrorists."
Maksim lives in one of the large tents erected on the pitch of the Kirov Stadium. This is where he and fellow anarchists yesterday gathered to escape the stifling heat of the stadium's tribunes, where roundtables were held on topics ranging from media freedom and civil society to housing and ecology.
Fierce Debates
It is here, also, that militants engaged in animated debates on how to counter the influence of the G8.
"Just imagine that eight individuals are deciding what the whole world should do, how it should live globally, without asking the advice of the people," said one young anarchist who identified himself only as Kuss. "Yes, there is the argument that we elected them. But eight people cannot take responsibility for the whole planet, it's impossible, but that's what they are trying to do."
At the other side of the stadium, Natasha, a 40-year-old Ukrainian, was distributing Marxist leaflets and posters of guerilla leader Che Guevara.
"I'm against the G8 and against NATO as a world aggressor, an oppressor of people, an organization that is not giving so-called third world countries the chance to develop," Natasha said. "They are the ones, with their financial, aggressive policy, who made these countries third-rate. This coalition fosters only war and aggression."
Different Levels Of Activism
Communists, anarchists, human rights activists, and civil groups who gathered at the forum are united in their campaign against the G8. But the forum underscored tensions over how to turn ideas into action.
Paul, a British trade-union activist based in Poland, looked skeptically at the groups debating on the tribunes.
"I'm a revolutionary; I believe in revolutionary socialism; I believe in world socialist revolution, so I'm very radical," Paul said. "I don't think these anti-globalists are very radical because they don't really challenge capitalism. I think most of them would like capitalism with a human face, and I don't think it's possible to reform capitalism, make it nicer for people. We need a completely new system, we need an economy based on completely different principles."
Paul doubts the forum will draw much attention, in contrast to last's year anti-G8 demonstrations in Gleneagles, Scotland, when protesters violently clashed with riot police close to the G8 summit venue.
Activists still have time to attempt a second demonstration before G8 leaders leave St. Petersburg on July 17. But with the summit taking place in the isolated Konstantinovsky Palace outside the city, all the signs are that world leaders will not see or hear any protesters this year.
MORE: To read coverage of this topic from RFE/RL's Russian Service in Russian, click here.
St. Petersburg, July 15
THE DAY IN IMAGES: RFE/RL correspondent Claire Bigg sent the following images from the anti-G8 encampment in St. Petersburg's Kirov Stadium on July 15.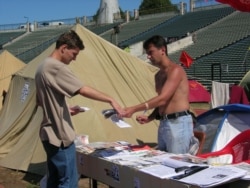 Anti-G8 activists exchanging information at a stand on the stadium grounds (RFE/RL)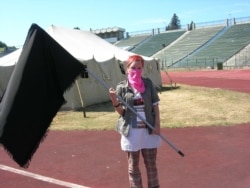 An unidentified anti-G8 anarchist (RFE/RL)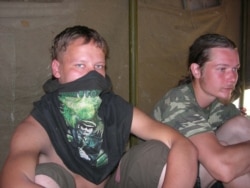 Anti-G8 anarchists Maksim (left) and Kuss (RFE/RL)


The police presence at the stadium was considerably greater than that of the demonstrators (RFE/RL)


HUMAN RIGHTS OVERVIEW: For a regular review of civil-society developments throughout RFE/RL's broadcast region, subscribe to "RFE/RL (Un)Civil Societies."