PRAGUE, July 18, 2006 (RFE/RL) -- Farid, a student at Kabul University, was once violently beaten and jailed for several days by a Taliban religious patrol because his beard was not long enough.
He tells RFE/RL that the plan to create a Department for the Promotion of Virtue and Prevention of Vice reminds him of those "dark days."
Zarifi adds that his organization is concerned that the "vice and virtue department" could turn into an instrument for political pressure.
Most Feared Institution
"If they want to apply it like it was during the Taliban then people will definitely be against this Promotion of Virtue [Department] because people have bad memories about that time and the conditions that existed then; especially young people are against it," he said. "Afghan people need reconstruction, education, science, and technology because through them Afghanistan will move toward stability, progress, and democracy -- not by reintroducing vice and virtue."
The Taliban's Ministry for the Promotion of Virtue and Prevention of Vice was the regime's most feared institution.
It was in charge of implementing Islamic rules as defined by the Taliban.
Its forces patrolled the streets beating and arresting people who listened to music or women and girls who did not wear the full-body burqa.
That ministry was also in charge of conducting Islamic punishment, such as the stoning of women charged with adultery.
Some four years after the fall of the hard-line regime, Afghanistan's Ulema Council has suggested to President Hamid Karzai that a "virtue and vice department" should be set up again.
The department will reportedly work on ensuring that religious rules -- such as not drinking alcohol -- are observed.
Different From Taliban
Deputy Minister for Haj and Religious Affairs Ghazi Suleiman Hamed defended the plan in an interview with RFE/RL's Radio Free Afghanistan.
He said the new department will be quite different from the one ran by the Taliban.
"The Taliban interpretation of Islam is different from the interpretation of the rest of the Islamic world," he said. "No one has the right -- under the excuse of promoting virtue and preventing vice -- to commit a sin and harm others. The clerics want to help people to move toward God through any possible means, such as education, preaching, and encouragement. It doesn't mean that, like in the past, there will be a [special] police and that prison and clubs will be used [against violators]."
On June 16, government spokesman Mohammad Asif Nang was quoted by agencies as saying that President Karzai has given the green light for the plan to be referred to Afghanistan's parliament.
Legislator Shukria Barekzai tells RFE/RL it is not clear when the parliament will debate and consider the proposal.
However, she believes there is no need for such a department unless it would fight bureaucratic corruption.
"There are names that remind us of some issues, for example the religious polices that were created under the rule of President [Burhanuddin] Rabbani; until the Taliban era, their main work was to oppose music and women, they had summed up Islamic culture to these two things," she said. "The other thing is that in a country where there are already several bodies to enforce security, why do we need another body whose authority is not clear yet. Are we moving again toward a Taliban government?"
Why Now?
Human Rights Watch's (HRW) leading researcher on Afghanistan, Sam Zia Zarifi, told RFE/RL that many Afghan citizens are alarmed over the proposal.
"Many Afghan people, especially Afghan women, have told HRW that they are worried that the issue of the creation of a Ministry for the Promotion of Virtue [and Prevention of Vice] has been brought up under Afghanistan's current conditions, where there is [so much] insecurity and people are under economic pressure," Zarifi said.
Zarifi adds that his organization is concerned that the "vice and virtue department" could turn into an instrument for political pressure.
"Unfortunately the international [community] has not helped Karzai economically or from a security standpoint as much as it should have," she said. "Therefore Karzai is under pressure from groups who we think want to abuse Afghanistan's current situation and in the name of religion put critics and women and girls under political pressure."
The proposal on the creation of a morality department comes amid a recent crackdown on alcohol and prostitution.
On July 17, Afghan police said they had destroyed 3,000 cans of beer and some 600 bottles of wine and alcohol that were confiscated during raids in Kabul.
Several foreign women were also reportedly arrested and charged with prostitution.
U.S. Report On Global Human Rights
U.S. Report On Global Human Rights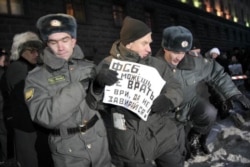 Police in Moscow arrest human rights demonstrators on February 1 (courtesy photo)
THE RECORD ON RIGHTS: On March 8, the U.S. State Department issued its global report on human rights. According to the report, 15 years after the breakup of the Soviet Union, human rights are improving in many post-communist countries. But problems persist in others, it says, despite the worldwide explosion of information and Western efforts to spread democracy. (more)
For more detailed information, see:
Azerbaijan Cited For Political Harassment, Police Brutality
Child Labor, Human Trafficking Cited In U.S. Report On Afghanistan
U.S. Says China, Iran 'Most Systematic' Rights Violators
Human Rights Not A Priority In Central Asia, U.S. Report Says
U.S. Report Points To Serious Abuses In Iraq
Abuses In Chechnya, Centralized Power Cited In U.S Report On Russia
U.S. Says Serious Human Rights Violations Occurring In Iran



SUBSCRIBE
For a regular review of civil-society developments throughout RFE/RL's broadcast region,
subscribe to "RFE/RL (Un)Civil Societies."