Hundreds of Afghan and foreign troops in the U.S.-led coalition battled Taliban fighters in Helmand Province on July 19 before entering the town of Garmser -- a district center that was seized by the militants three days earlier.
The operation at Garmser followed a similar offensive on July 18 in Naway-e Barakzayi -- another district center in Helmand that was seized by the Taliban on July 16.
'Bullying Their Way Around'
U.S. military spokesman Lieutenant Colonel Paul Fitzpatrick said coalition forces "skirmished" with Taliban fighters outside Garmser but met no resistance once inside the town. That suggests most of the several hundred Taliban who initially overran the town escaped before the coalition counterattack.
Fitzpatrick concludes that the Taliban are "bullying their way around" some smaller towns in remote parts of southern Afghanistan. But with coalition air strikes called in easily from Kandahar Airfield or a French aircraft carrier off the coast of Pakistan, Fitzpatrick says the Taliban cannot hold any territory for long.
Looking For Soft Targets
Ian Kemp, an independent London-based defense analyst, says the latest fighting shows the Taliban is more likely to focus concentrated attacks on Afghan police or government soldiers in remote areas than the strongholds of NATO troops.
"The Taliban have shown a consistent pattern of attacking so-called 'soft targets,'" Kemp said. "And in the present situation, that means the Afghan security forces themselves -- the Afghan Army and the Afghan police who lack the experience, the equipment, or the command-and-control infrastructure that the coalition forces have. Particularly now with the wider deployment of NATO forces, the Taliban know that it is going to be very, very difficult to beat British, Canadian, and U.S. forces."
But Ahmed Rashid, a Pakistani journalist and author of the book "Taliban," sees the situation differently.
"I think the reality is really that the Western alliance is in deep trouble," Rashid said. "I think they have not been able to yet assess the extreme infiltration that has taken place by the Taliban right across the south now. The Taliban are controlling entire districts [and] district capitals. The Western forces are occupying outposts in these towns. But they do not control the towns."
Rashid tells RFE/RL that despite the recapture of the two district capitals in Helmand, recent events there could be an ominous sign for NATO as the alliance prepares to take over security operations from the coalition across southern Afghanistan by the end of this month.
Large-Scale Raids
"The Taliban are fighting a very tactical war," he said. "They are obviously attacking where the NATO presence is less -- and weaker. But the point remains. The Taliban attacked [Garmser] in [a group] of maybe 200 to 400 Taliban. The fact that the Taliban can mass such enormous numbers with arms and ammunition and logistics and supplies -- and the NATO forces are not able to detect them as they mass or are not able to prevent them from coming into these towns in the south -- I think it really begs the question as to what kind of intelligence NATO has got and how ineffective it is."
In Kabul, Deputy Interior Minister Abdul Malik Sidiqi accused two Pakistani Islamist groups of helping Taliban fighters chase Afghan police from the districts in Helmand. The groups are Lashkar-i-Tayeba and Jamiat-i-Ulema Islam.
Coming In From Pakistan?
Pakistan's Foreign Ministry dismissed the allegations, telling RFE/RL that events in Helmand are an internal problem of Afghanistan -- and that it is not possible for Islamist groups to go from Pakistan to Helmand.
But Helmand Governor Mohammad Daoud says he is certain that foreigners came into his province from Pakistan to carry out the July 16 attacks.
Helmand Police Chief General Nabijan Mulakhail told RFE/RL that documents found on one dead militant in Garmser prove that the fighter had come from Pakistan.
"We were conducting clean-up operations [in Garmser] and we found the body of a militant that was in very bad condition," Mulakhail said. "In his pocket we found a special identification card issued by [former Pakistani Prime Minister] Nawaz Shariff's Muslim League of Pakistan. This is a political party membership card that was issued in Karachi. He had come from there and was fighting in Garmser."
Rashid says the evidence does not support Deputy Interior Minister Sidiqi's allegation of involvement by Lashkar-i-Tayeba and Jamiat-i-Ulema Islam.
"There is no evidence to support his claim," Rashid said. "But certainly there is sufficient evidence to say that Afghan Taliban and Pakistani Pashtuns based in Baluchistan Province have been flowing into southern Afghanistan. And the Taliban are recruiting a lot of people in Baluchistan. And there seems to be [nothing preventing them from crossing] the border.... which groups are involved, we don't know."
Rashid also agrees with Pakistan's Foreign Ministry that it would be impossible for large groups of militants to cross from Pakistan into Afghanistan together. But Rashid says that is not how the infiltrations are taking place.
"There is a very steady drip, drip, drip of infiltration going on, which is less easily detectable," he argues. "But, according to my sources in the south, it is certainly going on at an alarming rate."
Rashid also notes Pakistani security forces have arrested several hundred suspected Taliban fighters in Quetta during the last three days. He says it remains to be seen whether those arrested are real Taliban militants or ordinary Afghans living in refugee camps near Quetta.
Afghanistan And Pakistan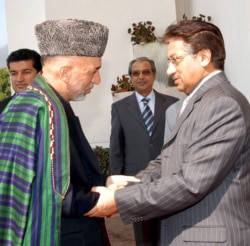 Afghan President Hamid Karzai (left) with Pakistani President Pervez Musharraf in Islamabad in October 2005 (epa)

ACROSS A DIFFICULT BORDER. The contested border between Pakistan and Afghanistan is some 2,500 kilometers long and runs through some of the most rugged, inhospitable territory on Earth. Controlling that border and preventing Taliban militants from using Pakistan as a staging ground for attacks in Afghanistan is an essential part of the U.S.-led international coalition's strategy for stabilizing Afghanistan. Officials in Kabul have been pointing their fingers at Pakistan for some time, accusing Islamabad or intelligence services of turning a blind eye to cross-border terrorism targeting the Afghan central government. Many observers remain convinced that much of the former Taliban regime's leadership -- along with leaders of Al-Qaeda -- are operating in the lawless Afghan-Pakistani border region.... (more)
RELATED ARTICLES
Pakistan-Afghanistan Conflicts Continue
Karzai, Musharraf Spar Ahead Of Bush Meeting
Musharraf Says Taliban Could Spark Pashtun 'National War'
Afghan Minister Attacks Pakistani Support For 'Terrorism'
Historical Context Of Afghan-Pakistani Relations
Afghanistan/Pakistan: 'Inseparable Twins' In Need Of Separation
ARCHIVE
RFE/RL
coverage of Afghanistan
. RFE/RL
coverage of Pakistan
.
SUBSCRIBE
For weekly news and analysis on Afghanistan by e-mail,
subscribe to "RFE/RL Afghanistan Report."