Sarkisian said that Kocharian does not object to his far-reaching alliance with Armenia's largest governing party, the Republican Party of Armenia (HHK).
Rift Between Sarkisian, Kocharian?
Many Armenia observers believe that Sarkisian's decision to align himself with Prime Minister Andranik Markarian's HHK does not sit well with Kocharian, who is widely expected to resign after completing his second term in office in early 2008.
Reports have pegged Sarkisian as a possible candidate to succeed Kocharian. But Sarkisian's ties to the HHK could conflict with the president's perceived efforts to contain the HHK and secure his own political future.
Asked whether he thinks he could be sacked by Kocharian for joining the HHK, Sarkisian replied: "How can I rule out the possibility of the president dismissing me when he is the supreme commander in chief [of the armed forces] and can do that with a single signature? But I rule out his doing so in connection with [my affiliation with the HHK] because the president of the republic has fully approved my intention. I think there will be an occasion for him or his spokesman to speak about this. Besides, what is the use of taking steps contradicting the opinion of the supreme commander in chief?"
Observers say Kocharian does not necessarily back Sarkisian's reputed presidential ambitions, despite having closely cooperated with the powerful defense minister for nearly two decades.
Sarkisian himself says he has not yet decided whether to run for president in 2008.
"It's very difficult to say [if I will run], because I've never given it serious thought," he said. "You may not believe me, but I am speaking sincerely. I will make my decision after the parliamentary elections are held [in May 2007]. All I can say is that I've never strove for any position. All of my friends know this."
Working With HHK
Speaking to RFE/RL late on July 19, Prime Minister Markarian was likewise vague about Sarkisian's presidential ambitions and stopped short of ruling out his own participation in the 2008 presidential ballot. "We will see in 2008," he said.
Markarian also described as "logical" Sarkisian's decision to join his party. "He felt that he likes the party's ideology and program," Markarian said. "Besides, we have closely cooperated during all these years and are simply formalizing this fact."
Sarkisian has repeatedly made it clear that a possible presidential bid hinges on the HHK's performance in next year's parliamentary elections. This has been construed by opposition leaders and other government critics as a sign that the Republicans will seek to hold on to their parliamentary plurality in the next National Assembly at any cost.
The HHK boasts the largest faction in the current National Assembly, controlling at least 41 of its 131 seats. Sarkisian said on July 20 that he would consider maintaining that number in the next Armenian parliament an excellent result.
"I haven't yet discussed this topic with members and leaders of the Republican Party," he said when asked how many parliament seats it is looking to win. "But I have decided for myself that if the Republicans win up to 21-22 percent of the vote in the elections, I will consider that satisfactory; [if they get] up to 25 percent, [I will consider that] good; [if they get] more than that [I will consider that] excellent."
Karabakh Compromise
Sarkisian, the former wartime commander of Karabakh Armenian forces, also endorsed a compromise solution to the Nagorno-Karabakh conflict favored by international mediators.
He said he agreed with the Armenian government's overall acceptance of a recent plan that calls for a referendum on Karabakh's status after the liberation of Azerbaijani territories surrounding the disputed region. "Yes, I am in favor of the proposed principles. How can I be against something that I have said for years?"
But at the same time he left room for maneuver in the event of popular opposition to the peace plan. "If the public has a different opinion, another political force will win a majority and pursue its policy, and that would be very good," he said. "How can I oppose something which is to our people's liking?"
(by Hrach Melkumian, Armen Dulian, and Ruzanna Khachatrian)
A Precarious Balance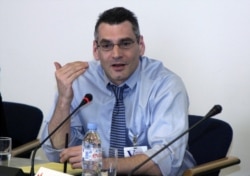 Richard Giragosian at RFE/RL on May 25 (RFE/RL)
SECURITY SLIPPING AWAY?
: On May 25, RFE/RL's Prague broadcasting center hosted a talk by
RICHARD GIRAGOSIAN
titled, "The Military Balance In The South Caucasus And Nagorno-Karabakh." Giragosian, a Washington-based analyst of international relations in the former Soviet Union, concentrated on the military balance between Armenia and Azerbaijan as the two countries continue to increase defense spending. Girogosian argued that corruption is the main threat to the national security of both countries. He also commented on other security issues in the South Caucasus, Iran, elsewhere.
LISTEN
Listen to the entire briefing (about 60 minutes):
Real Audio
Windows Media
Selected Articles By Richard Giragosian:
Nagorno-Karabakh: Peace May Depend On Military Situation
Georgia: Gas Cutoff Highlights National Security Flaws
Azerbaijan: Has Government Taken A Troubling Example From Andijon?
ARCHIVE
For an archive of RFE/RL's coverage of Nagorno-Karabakh, click here.

SUBSCRIBE
For weekly news and in-depth analysis on Armenia, Azerbaijan, Georgia, and Russia's North Caucasus by e-mail, subscribe to "RFE/RL Caucasus Report."