The inquiry found that 13 women and 12 children were among the injured in the June 10 coalition bombing of villages near the provincial capital of Tarin Kot.
Deputy presidential spokesman Siamak Heyravi told RFE/RL that eight suspected Taliban members were also killed in the bombing, and "10 residents of the region, including women...and children, were martyred and 27 were wounded."
'Regrettable Collateral Damage'
Karzai last week appointed a team to investigate the incident after
local residents and a legislator
said many civilians were killed in the bombing.
Karzai has on many occasions deplored civilian deaths in antiterrorism operations and called on U.S.-led forces to act more carefully during air strikes.
A coalition spokesman was quoted by AP as saying that coalition forces try very hard to avoid civilians. But he added, "When the enemy fights among civilians they needlessly put them in danger."
The U.S.-led coalition had said they killed 40 suspected militants during the bombing raid.
Heyravi said coalition forces launched the June 10 strike near Tarin Kot after receiving intelligence that the Taliban were meeting at a local house.
"The Taliban meeting place in Oruzgan was bombed but unfortunately the Taliban had gathered in a place that was close to the houses of locals; as a result of the attack, regretfully, civilians were killed," he said.
Heyravi added that the inquiry had recommended that coalition forces should work in close cooperation with Afghan authorities.
"The delegation transferred the demands of the people to the president; people want more precision in the [bombing] operations so the delegation has recommended that these operations should be conducted in coordination with Afghan forces," he said.
Upsurge In Violence
In recent months many Afghan civilians have fallen victims to an
upsurge in violence
.
According to statistics released by the U.S. military, more than 1,100 people have been killed in southern Afghanistan in fighting between coalition forces and the Taliban since January.
About 800 of those deaths have come in the two months since a major anti-Taliban operation, Operation Mountain Thrust, was launched in mid-May.
"It's the nature of terrorist forces to search for softer and easier targets and attack them to make headlines." -- Nadery

On July 13, Nader Nadery, the spokesman of the Afghan Independent Human Rights Commission, told RFE/RL that at least 600 people who have been killed in fighting so far this year are thought to have been civilians.
"The Afghanistan Independent Human Rights Commission has expressed concern about the deaths of civilians many times -- especially during the past year when terrorist operations have increased," Nadery said.
"At the same time, counterterrorism operations have also been expanded. But, unfortunately, civilians have been the main victims of the growing insecurity and the increase in terrorist operations in Afghanistan," he added.
Targeting Civilians

Several Afghan publications have in the past weeks criticized the civilian deaths in the counterterrorism operations.
"Farda" recently accused U.S. forces of being "careless" in their operations. The publication warned that the death of civilians in U.S.-led operations could distance feelings between Afghan citizens on the one hand and their government and foreign forces on the other.
Nadery said that while Afghan and foreign forces do their best to avoid civilian casualties, militants deliberately target civilians.
"A significant part of the civilian deaths are the result of actions by terrorists, the Taliban, and armed groups that are engaged in antigovernment operations in different parts of the country," he said. "It's the nature of terrorist forces to search for softer and easier targets and attack them to make headlines."
Human Rights Watch recently said in a report that its has documented 204 incidents of
insurgent attacks on teachers, students, and schools
in Afghanistan since January 2005.
Saving Afghanistan's Heritage
Saving Afghanistan's Heritage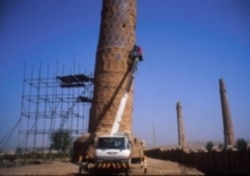 A UNESCO team working to stabilize Herat minarets in 2003 (UNESCO)

THE MINARETS OF HERAT: In Afghanistan's leafy western city of Herat, a two-lane road slices between the city's five remaining 15th-century minarets. Every truck, car, bus, motorcycle, and horse-drawn carriage that passes by sends vibrations coursing through the delicate structures.
In particular, the Fifth Minaret -- all 55 meters of it -- seems ready to collapse into a dusty heap of bricks and colored tiles at any moment. A large crack near its base makes drivers speed up just a little as they pass by....(more)



Click on the image to view an audio slideshow of this story by RFE/RL correspondent Grant Podelco.



RELATED ARTICLES
Afghanistan Protects Storied Bactrian Treasure
Archeologist Hunts For Third Bamiyan Buddha
Musicians Struggling To Revive Classical Heritage After Taliban
ARCHIVE
To view RFE/RL's complete coverage of Afghanistan,
click here
.

SUBSCRIBE
For weekly news and analysis on Afghanistan by e-mail, subscribe to "RFE/RL Afghanistan Report."