Additional U.S. Troops Redirected To Baghdad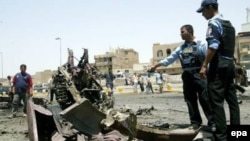 Police investigating the scene of a Baghdad market car-bomb blast on July 20 (epa) July 24, 2006 -- U.S. military officials confirmed today that additional U.S. troops are being sent to Baghdad to stabilize the city after weeks of sectarian violence.
Coalition spokesman Major Scott Coulson did not say how many troops that were due to be sent elsewhere in the country are being redirected to the capital.
More than 7,000 U.S. troops and 43,000 Iraqis have been trying since June 14 to quell the attacks between Shi'a and Sunnis in the city.