Construction of the Shar-Shar and Shahriston tunnels is part of plans to improve road communications between Tajikistan's capital, Dushanbe, the northern city of Khojand, and the Uzbek border town of Chanoq.
Their combined cost is estimated at some $110 million.
Two Chinese companies recently won tenders to build the tunnels and Beijing this year offered Tajikistan grants and loans to fund the projects.
Tajik President Imomali Rakhmonov has said that China is the second-largest foreign investor in the country after Russia.
Ahead of a summit of the Shanghai Cooperation Organization (SCO) in June, China announced plans to sign up to $2 billion worth of business contracts and loan agreements with Central Asian countries.
The SCO is made of China, Russia, Tajikistan, Uzbekistan, Kyrgyzstan, and Kazakhstan.
(Avesta, Zamon)
(Avesta, Zamon)
China In Central Asia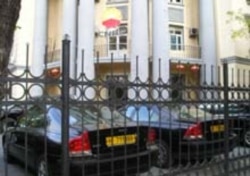 The Almaty,Kazakhstan, office of China's National Petroleum Corporation (RFE/RL)
BEIJING ON THE RISE:
The September 11, 2001, terrorist attacks against the United States prompted Washington to topple the Taliban regime in Afghanistan. At the time, many predicted the United States would gain a new foothold in Central Asia: new U.S. military bases appeared in Kyrgyzstan and Uzbekistan, U.S. foreign aid increased, and much U.S. attention was lavished on the region. Russia and China looked on warily. But the pendulum may be swinging back in Moscow's and Beijing's favor. China, especially, has expended great effort at winning friends in Central Asia and is becoming a force to be reckoned with
....(more)
RELATED ARTICLES
Turkmenistan-China Pipeline Project Has Far-Reaching Implications
Central Asia Looks To Fuel Asia's Economic Boom
The Geopolitical Game In Central Asia
ARCHIVE
To view an archive of RFE/RL's coverage of China, click here.

SUBSCRIBE
For weekly news and analysis on all five Central Asian countries by e-mail, subscribe to "RFE/RL Central Asia Report."