Pilots Blamed For Armenian Air Disaster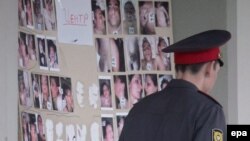 A Russian police officer near a board with photographs of bodies retrieved from the sea after the Armavia plane crash in early May (epa) July 26, 2006 -- Air safety officials say pilot error was responsible for the crash of an Armenian passenger plane near the Russian resort city of Sochi in May.
All 113 people on board died.
Tatyana Anodina, the head of the Interstate Aviation Committee that links civil aviation agencies in the former Soviet Union, said the pilots allowed the Armavia airline plane to descend too low on its approach to Sochi airport.
(AP, ITAR-TASS)