Huseynov, editor of the journal "Monitor" that systematically investigated alleged corruption, was gunned down outside his apartment on March 2, 2005. Days later, police arrested some 20 members of a gang reportedly led by Mammadov whose members are currently on trial for several high-profile killings and abductions committed over a period of 10 years.
Link To Coup Allegations
Aliyev was dismissed from his post in October 2005 and arrested on charges of embezzlement and plotting a coup against the Azerbaijani leadership, charges he has steadfastly denied.
On July 26, Aliyev issued a statement to the Azerbaijani people, posted on day.az, in which he again asserted his innocence. Aliyev also said in that statement that he was recently warned that he would be charged with Huseynov's murder unless he agreed to plead guilty to the coup charge.
The preliminary hearings in the trial of Mammadov and 26 others accused with him opened in Baku's Court for Grave Crimes in early July. Lawyers for several of the accused demanded that the pretrial investigations be reopened, claiming that in some cases no evidence was available to substantiate charges.
For example, Nishad Ismailov is charged with having committed a murder in Azerbaijan, although he can prove he was in Moscow at the time of the killing, according to the online daily zerkalo.az on July 7. Requests by several defendants to summon senior officials to give evidence, including Prosecutor-General Zakir Garalov and Interior Minister Colonel General Ramil Usubov, were denied.
Testifying on July 25, Mammadov admitted to six murders, including those of a fellow Interior Ministry official, Azer Ismaylov, and of Huseynov. He added that then-Economic Development Minister Aliyev ordered Huseynov's murder, but did not provide any further details, and the presiding judge adjourned the session immediately after that revelation.
Conflicting Testimony
During his pretrial testimony, Mammadov said he was approached with a contract to kill Huseynov, but that he personally did not commit the murder.
In an analysis of the implications of Mammadov's claim of responsibility for Huseynov's murder published on July 26, the online daily zerkalo.az recalled that Turkish investigators asked by the Azerbaijani authorities last year to assist in the investigation of that killing raised the possibility that Mammadov was responsible, but the Azerbaijani authorities discounted that possibility.
Several suspects in Huseynov's killing have been named, but none apprehended. Zerkalo.az further suggested that Mammadov in fact had nothing to do with Huseynov's killing, but for reasons unclear agreed to shoulder responsibility for it.
Elton Guliyev, Aliyev's lawyer, dismissed Mammadov's allegation outright, and reaffirmed that during the nine months Aliyev has been held in pretrial detention, investigators have failed to produce a shred of evidence to substantiate the charges against him.
No Ill Will
Shahbaz Hudoglu, a close friend of Huseynov, commented to day.az on July 26 that there was no ill-feeling between Huseynov and Aliyev. He said Huseynov considered Aliyev corrupt, although less so than many other government ministers. Hudoglu added that Huseynov gave Aliyev credit for being one of very few senior government officials to invest in the Azerbaijani economy.
Mammadov's sensational claim of responsibility for Huseynov's murder is likely to revive speculation, first expressed in January this year by a former police colonel dismissed from the Interior Ministry in 2001, about how his gang could have operated undetected over a period of 10 years without his superiors, including Usubov, suspecting anything.
World Press Freedom Day
NOT REALLY SO FUNNY:
The Paris-based World Association of Newspapers asked French cartoonist Michel Cambon to produce a series of cartoons on the theme of jailed journalists to mark World Press Freedom Day (May 3). Below, RFE/RL reproduces several of Cambon's cartoons.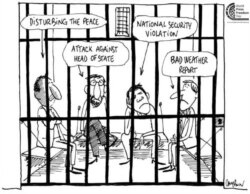 (WAN/Cambon)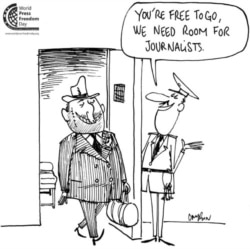 (WAN/Cambon)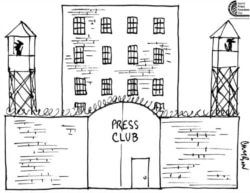 (WAN/Cambon)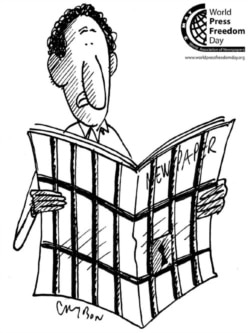 (WAN/Cambon)

RFE/RL's Press Freedom Day stories:
Iraq: Covering The Most Dangerous Beat On Earth
Afghanistan: Women In Journalism Battle Restrictions, Threats
Iran: State Maintains Tight Control Over Information
CIS: Press Freedom In Former Soviet Union Under Assault
Central Asia: Bureaucratic Obstacles Hinder Journalists
Central Asia: Governments Wary Of Independent Media
Central Asia: Journalists Still Face Harassment, Threats

ARCHIVE
To view an archive of RFE/RL's coverage of media-related stories, click here.
SUBSCRIBE
For regular news and analysis on media issues throughout RFE/RL's broadcast area by e-mail,
subscribe to "RFE/RL Media Matters."