Georgian security forces are attempting to capture the Monadire (Hunter) militia of Emzar Kvitsiani, a former regional governor. The operation had been briefly halted because of darkness and fog.
The central authorities charged him with treason on July 23 after he refused an order to disarm.
Giorgi Arveladze, the head of the administration of President Mikheil Saakashvili, said that all villages in the gorge are under the control of security forces but that the hunt for Kvitsiani was continuing. He said some members of Kvitsiani's militia were detained by security forces, while others gave themselves up.

Reports from the region previously said government troops had surrounded Kvitsiani and about 60 of his men in mountains near the village of Azhara.
An eyewitness from the gorge told the Imedi television channel that government forces had bombed the village of Chkhalta, where some of Kvitsiani's men are thought to be hiding, where the woman was killed.
Kvitsiani says he is defending the rights of the local Svan people.
Up to 1,000 Georgian troops have been reported deployed in the area.
(AFP, Rustavi 2, Imedi TV, Caucasus Press, Novosti-Gruziya)
Unknown Victims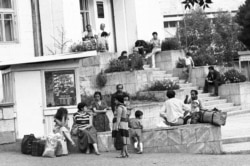 Ethnic Armenians displaced by fighting in Nagorno-Karabakh in the 1980s (Photolur)
HOW MANY MISSING? Well over a decade after conflicts in the South Caucasus froze, the International Committee of the Red Cross says new cases of missing people continue to emerge. Significant progress will, it fears, have to wait for final peace agreements.
Ethnic conflicts in the 1990s claimed tens of thousands of lives in the South Caucasus. Some 15 years later, many families are still searching for information about relatives who disappeared without a trace in the fighting.... (more)
RELATED ARTICLES
Frozen Conflicts Show Little Sign Of Thaw

South Caucasus Countries Discuss 'Frozen Conflicts,' Closer Ties
ARCHIVE
Click here to view archives of RFE/RL's coverage of the conflicts in Abkhazia, Chechnya, Kosovo, Nagorno-Karabakh, Ossetia, and Transdniester.

Click on the icon to view images of the Nagorno-Karabakh conflict (Flash required)