The Svans are an ethnic group closely related to the Georgians, and their traditional home is in the high mountains of northwest Georgia. The military situation, and Kvitsiani's whereabouts, remain unclear. The Georgian television station Rustavi-2 reported on July 26 that at least four people, including two police officers, were hospitalized after fighting the previous day. And on July 26, the Russian news agency regnum.ru reported that Kvitsiani's men have abandoned armed resistance and 60 of them have been arrested.
Hunting The Hunter
Kvitsiani was named governor of the Georgian-controlled stretch of the remote Kodori Gorge in 1999 by then-President Eduard Shevardnadze. In that capacity, he formed an armed militia known as Monadire (Hunter), that was theoretically subordinate to the Georgian Defense Ministry.

In April 2005, Georgia's present Defense Minister Irakli Okruashvili ordered the disarming and disbanding of Monadire, whose members retaliated by accusing Okruashvili of selling out to the leadership of the unrecognized Republic of Abkhazia. Interior Minister Vano Merabishvili rejected an alternative proposal to subordinate Monadire to his ministry, and the militia apparently continued to function on an unofficial basis.


But on July 22, Kvitsiani issued an open challenge to the Georgian leadership, saying that Monadire would not permit government plans to occupy the Georgian controlled section of the gorge on July 27.
He also warned that in light of the unresolved killings in recent months of numerous Svans, including banker Sandro Girgvliani, he would "start a civil war" if Merabishvili were reappointed interior minister in the new Georgian cabinet. Merabishvili's wife and several senior Interior Ministry personnel were involved in a public altercation with Girgvliani in a Tbilisi bar just hours before he was found dead on the city outskirts with his throat cut.
Talks Ruled Out

Kvitsiani demanded that Prime Minister Zurab Noghaideli, parliament majority faction member Giga Bokeria and State Minister Kakha Bendukidze come to Kodori for negotiations, but Bokeria, President Mikheil Saakashvili, and parliament speaker Nino Burdjanadze on July 24 ruled out any talks with Kvitsiani, whom they branded a criminal.

Givi Targamadze, who chairs the Georgian parliament's Defense and Security Committee, told the independent television channel Rustavi-2 on July 25 that Kvitsiani's militia, estimated to number only a few hundred men, are armed by, and are acting on orders from, Russia.


The possibility that Kvitsiani was indeed co-opted by Russia to provoke the Georgian military to launch an offensive against Kodori is only one of several. It is also conceivable that Kvitsiani was acting in league with the Abkhaz leadership, which may have calculated that an incautious Georgian military response in the Kodori would strengthen its argument that the Russian peacekeepers currently deployed in the Akhaz conflict zone should not under any circumstances be withdrawn.
Sergei Bagapsh, president of the unrecognized Republic of Abkhazia, has reportedly deployed Abkhaz forces to the lower reaches of the gorge, in accordance with a warning he issued on July 25 that they would "respond appropriately" if the Georgians advanced beyond a certain point.
Kvitsiani is reported to have met recently with Abkhaz Interior Minister Otar Khetsia, and to have refused an offer late on July 25 from Abkhaz Deputy Defense Minister Garri Kupalba of safe passage into Abkhazia.
Alternative Theories
Alternatively, Kvitsiani may, as he claims, be motivated exclusively by concerns over discrimination against the Svan minority and the Georgian government's failure to provide reliable transportation and other assistance to Kodori's population. Or, he may have been set up, through a middleman, by "hawks" within the Georgian leadership eager to create a pretext for military intervention in Abkhazia.


Whatever the case, the Russian Foreign Ministry responded on July 25 to reports of the deployment of Georgian troops to Kodori with a statement accusing Tbilisi of violating the May 1994 cease-fire and agreements on the deployment of troops to the conflict zone. The commander of Russian peacekeepers in Abkhazia described the deployment of Georgian forces in Kodori as a military operation.
That though is denied by the Georgians. Foreign Minister Gela Bezhuashvili says the operation in Kodori is a police action, and has pledged that Georgia will not extend the operation onto Abkhaz territory.
Universal Principles?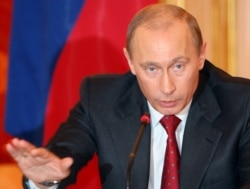 President Putin at a Kremlin meeting in April (epa)
PUTIN SPEAKS OUT: During a January press conference, Russian President Vladimir Putin said there is a need for "universal principles" to settle "frozen" conflicts in the CIS. His comments came against the background of impending talks on the future status of Kosovo, which many predict will grant it a form of "conditional independence" from Serbia and Montenegro. As an ally of Serbia, Moscow has consistently opposed the idea of Kosovar independence. Putin's remarks suggest he may be shifting his position, but only if the principles applied to Kosovo are also applied to frozen conflicts in the former Soviet Union. If Kosovo can be granted full independence, he asked, why should we deny the same to Abkhazia and South Ossetia? (more)
RELATED ARTICLES
Putin Calls For 'Universal Principles' To Settle Frozen Conflicts
Russia Key To OSCE's Attempts To Resolve Frozen Conflicts
Georgia Pushes For EU Backing In Standoffs With Russia
ARCHIVE
Click here to view archives of RFE/RL's coverage of the conflicts in Abkhazia, Chechnya, Kosovo, Nagorno-Karabakh, Ossetia, and Transdniester.