Albanian Parliament Ratifies Pre-Entry Deal With EU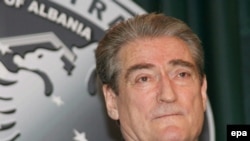 Albanian Prime Minister Sali Berisha (file photo) (epa) July 27, 2006 -- Albania's parliament ratified a pre-membership agreement with the European Union today, turning into law a deal that commits the country to economic and political reforms.
The changes are a prerequisite for the Balkan country's future entry into the 25-nation bloc.
All EU member countries must ratify the agreement before Albania can ask to start membership talks.
(AP)