Khodorkovsky Family May Face Eviction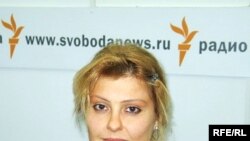 Irina Khodorkovskaya at RFE/RL's Moscow bureau on July 25 (RFE/RL) MOSCOW, July 30, 2006 (RFE/RL) -- The family of jailed Russian tycoon Mikhail Khodorkovsky may be evicted from their suburban Moscow home.
Inna Khodorkovskaya, Khodorkovsky's wife, told RFE/RL's Russian Service in a July 25 interview that authorities in May froze a housing complex in the Moscow suburb of Zhukovka where Khodorkovsky and other former executives of the Yukos oil company he founded have homes.
Khodorkovskaya said the authorities did not explain the action.
"So now I am thinking that I need to find a place to rent," Khodorkovskaya said. "How soon that might happen -- I don't know their plans."
She added that neither she nor her three children plan to leave Russia, even if their home is seized.
Khodorkovsky is serving an eight-year prison sentence for tax evasion and fraud, in a case viewed by many supporters and observers as political.
Khodorkovskaya explained that in order to visit her husband at the Far Eastern prison where he is being held, she must fly for nine hours, followed by a 15-hour train ride and 40 minutes in a car.
MORE: Additional coverage in Russian from RFE/RL's Russian Service. The complete interview in Russian.


UPDATED CONSTANTLY: Visit RFE/RL's Russian-language website, featuring news, analysis, features, streaming audio, and more, in Russian, from RFE/RL's Russian Service.
ARCHIVE
RFE/RL's English-language
coverage of Russia
.