The Khatlan regional court on July 31 ruled that the main organizer of the unrest, Bahodur Abdulmajidov, who was an inmate, be given an additional jail term of 29 years and that he should serve it in a high-security penal colony.
Eleven other prisoners received additional jail terms of between six and 25 years.
The court also sentenced four prison wardens to two to three years in jail for negligence.
Abdulmajidov's lawyer told reporters the defendants will appeal the court's verdict within 10 days.
The trial began on May 24.
(Asia-Plus, Avesta)
Central Asian Cinema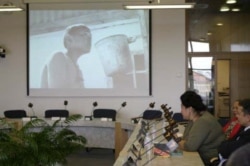 Gulnara Abikaeyeva's June 29 presentation in Prague (RFE/RL)
EAST OF THE WEST:
On June 29, RFE/RL's Prague broadcasting center hosted a presentation by
GULNARA ABIKEYEVA
, director of the Central Asian Cinematography Center in Almaty, Kazakhstan. Abikeyeva is a leading expert on Kazakh and Central Asian cinema, a chairwoman of the jury of this year's East Of The West section of the Karlovy Vary film festival. Abikaeyeva gave an overview of major trends in Central Asian cinema since the 1960s. Abikeyeva has just completed a major DVD collection of the most popular films of the five Central Asian countries and is now beginning work on a similar collection of Central Asian documentaries.
LISTEN
Listen to the complete presentation (45 minutes):

Real Audio
Windows Media
Other Articles On Central Asian Culture:
Silk Road Revival Grows As More Sites Protected
Central Asian Directors Discuss Issues Behind The Camera
Ancient European Music Meets Central Asian Masters
Central Asian Masters Revive Old Ways Of Teaching Traditional Music
ARCHIVE
To view an archive of RFE/RL's reporting on culture throughout its broadcast area, click here.


THE COMPLETE STORY: Click on the icon to view a dedicated webpage bringing together all of RFE/RL's coverage of Kazakhstan, Kyrgyzstan, Tajikistan, Turkmenistan, and Uzbekistan.