Beijing Urges Diplomacy In Iran Nuclear Dispute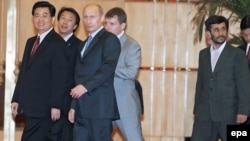 Chinese President Hu Jintao (left), with the Russian and Iranian presidents at a multilateral summit in June (epa) August 1, 2006 -- China today stressed the importance of diplomacy in resolving the international nuclear standoff with Iran.
The official Xinhua news agency quotes a Foreign Ministry spokesman, Liu Jianchao, as urging all parties to exercise restraint and continue to push for an early resumption of negotiations.

China's call comes after the UN Security Council -- including China -- passed a resolution July 31 demanding Tehran halt its nuclear activities by August 31 or face possible sanctions.

The Foreign Ministry says it hopes passage of the resolution will "help the ongoing diplomatic efforts."

UN Resolution 1696 demands Iran "suspend all enrichment-related and reprocessing activities, including research and development." And it expresses "serious concern" at Iran's refusal to cooperate with the UN's nuclear watchdog, the IAEA.

Iran denounced the move as illegal and vowed to press on.
Russia and China, each of which has extensive trade and business ties to Iran, have expressed reluctance to impose economic sanctions in the event of continued Iranian intransigence on the nuclear issue, as the United States has sought.

(AFP, Reuters)
Security Guarantees For Iran?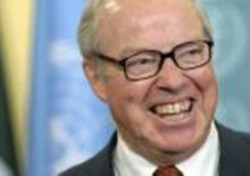 Hans Blix (CTK)

SECURITY GUARANTEES On January 26, RFE/RL Radio Farda correspondent Fatemeh Aman spoke with former UN chief weapons inspector HANS BLIX about the confrontation between Iran and the international community over Tehran's nuclear ambitions. Blix urged the United States to participate in direct negotiations with Tehran and to offer Iran security guarantees that are similar to those being discussed with North Korea...(more)
LISTEN
Listen to the complete interview (about five minutes):

Real Audio
Windows Media

THE COMPLETE STORY: RFE/RL's complete coverage of controversy surrounding Iran's nuclear program.