Kyrgyz Commemorate 1916 Uprising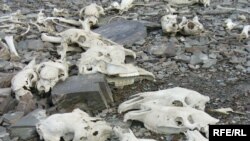 The bones of people and animals that died in the 1916 uprising flight continue to be found, in this case on the shores of Lake Issyk-Kul (RFE/RL) BARSKOON, August 3, 2006 (RFE/RL) -- Hundreds of people rallied today in Barskoon, a village in northern Kyrgyzstan, to commemorate the 90th anniversary of an anti-Russian armed revolt that was suppressed with great loss of life.
Participants included Deputy Prime Minister Tynychbek Tabyldiev, presidential aide Cholponbek Abykeev, parliamentarians, and NGO representatives.
The 1916 uprising was triggered by Russia's attempts to draft non-Slavs into the army to fight against Germany. Anti-Russian riots took place throughout most of today's Central Asia.
At least 100,000 people are believed to have been either killed during the Russian repression that followed, or to have died while trying to reach China through the mountains.
The 1916 events are known as Urkun (Exodus) in the Kyrgyz language.
Some participants at today's rally called on President Kurmanbek Bakiev to officially change the name to the National Liberation Uprising.

RFE/RL Central Asia Report

SUBSCRIBE For regular news and analysis on all five Central Asian countries by e-mail,
subscribe to "RFE/RL Central Asia Report."