U.S. Imposes Sanctions On Seven Firms For Iran Sales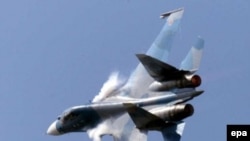 An Su-30-MK fighter plance produced by Sukhoi (epa) August 4, 2006 -- The United States today announced that it has imposed sanctions on seven foreign companies for selling material to Iran that could be used for making weapons of mass destruction.
Two of the companies were Russian, the arms dealer Rosoboronexport and the aircraft maker Sukhoi.
Two other companies were from India, two from North Korea, and one from Cuba.
Russia's Foreign Ministry criticized the sanctions, calling them unacceptable.
The sanctions prohibit the U.S. government from dealing with any of the companies.

(AP, AFP, ITAR-TASS)