Putin received Chavez at the Kremlin on the last day of the Venezuelan leader's three-day visit to Russia. The two leaders, who have already met on four previous occasions, exchanged warm handshakes in front of the cameras.
'Colossal Potential Opportunities'
Putin praised the growing energy and trade ties between Russia and Venezuela. "Venezuela is a natural partner for us. Venezuela occupies first place on the American continent for oil reserves and eighth place in the world for gas reserves. This means colossal potential opportunities," he said.
"I am very pleased that our companies are in the process of seeking joint decisions in the field of energy, and not only energy but also machine-building, space, and metallurgy," Putin added.
Putin said trade ties in absolute figures remained modest, but noted that turnover had jumped by 50 percent over the past year.
The Russian president then wished his guest success in the upcoming Venezuelan presidential vote in December.
Breaking The 'Blockade'
Chavez, for his part, asked Russia to help build an oil pipeline running 8,000 kilometers across South America to Argentina and to continue work on a number of projects to develop Venezuelan oil fields.
"The United States' empire is the greatest threat that exists in the
world today -- an irrational, blind, stupid giant who does not
understand life, who does not understand the world, who does not
understand human rights." -- Chavez

He thanked Russia for selling Venezuela 30 Russian Sukhoi-30 fighter jets and 30 helicopters in a $1 billion deal signed by Chavez at the start of his visit in the southern Russian city of Volgograd.
However, Sergei Chemezov, the head of Russia's Rosoborneksport weapons export agency, said today following the Putin-Chavez meeting that Venezuela has agreed to buy 24 military planes and 53 helicopters from Russia.
He said Russia and Venezuela had signed arms deals worth $3 billion over the past 18 months and that one of the contracts was for the military aircraft, though he did not specify the models.
Venezuela has claimed that the United States has thwarted its efforts to upgrade its aging fleet of U.S.-made F-16 fighter jets by refusing to sell Caracas replacement parts.
"We would like to thank you for saving us from a blockade," Chavez told Putin. "We were almost disarmed."
Washington, which recently announced an arms embargo against Venezuela, on July 25 urged Moscow to reconsider the sale of the powerful Sukhoi-30, saying it was not in the interest of either Russia or Venezuela.
Putin and Chavez were also expected to discuss the fight against terrorism and drug trafficking, the impasse over Iran's nuclear program, and the escalating violence in the Middle East.
U.S. 'Fills Entire World With Misery'
Chavez, a fierce critic of Washington, regularly accuses the United States of planning to invade his oil-rich country.
Earlier today in Moscow, Chavez again lashed out at the United States while unveiling a bust of Simon Bolivar, a 19th-century military leader renowned throughout Latin America for his battles for independence from Spain.
"It seems that the United States is destined to fill the entire world with misery while speaking in the name of freedom," Chavez said. "This is happening in Iraq, in the Middle East, in Latin America. The United States' empire is the greatest threat that exists in the world today -- an irrational, blind, stupid giant who does not understand life, who does not understand the world, who does not understand human rights."
Chavez's international tour is seen by many as an attempt to rally support against the United States. So far on his tour, he has met two vociferous U.S. foes -- Cuban President Fidel Castro of Cuba and Belarusian President Alyaksandr Lukashenka.
After Russia, the Venezuelan leader is set to visit Iran, which Washington has described as part of an "axis of evil" in the world.
Russian Arms Exports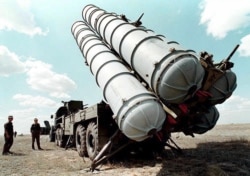 Russia's advanced S-300 air-defense system (epa file photo)

BOOM TIMES: In 2005, Russia sold more than $6 billion in weapons to more than 60 countries around the world. The state arms exporter says it has $17 billion in orders in hand....(more)
RELATED ARTICLES
Putin Pushes Greater Arms Exports
Energy, Weapons Bring Moscow Closer To Algiers
Will Russia's Oil Windfall Go To Military?
Putin Stresses Need For Strong Military
ARCHIVE
RFE/RL
coverage of Russia
. RFE/RL web special on
U.S.-Russian relations
.
SUBSCRIBE
For news and analysis on Russia by e-mail,
subscribe to "RFE/RL Russia Report."