The military said the operation was launched against Hizballah fighters believed responsible for firing rockets at the Israeli town of Hadera on August 4.
The strike at Hadera, some 80 kilometers from the Lebanon border, was the deepest Hizballah rockets have penetrated inside Israel since hostilities began more than three weeks ago.
Residents were stunned to learn that they were within Hizballah's range, but one woman said they would not be cowed. "We have to live and to continue living," she said. "On the contrary, if we entrench we will show them that we are scared, and that's it, we have to leave."
Continued Attacks On Southern Lebanon
Earlier today, Hizballah said it had repulsed an attempt by Israeli commandos to land near Tyre. Media reports said the commandos dropped from helicopters into citrus groves on the city's northern edge.
Today, Israeli military aircraft resumed its bombardment of Beirut's southern suburbs, and Hizballah fired more rockets into northern Israel.
Five people were wounded when rockets hit the suburbs of the Israeli city of Haifa today.
Meanwhile, U.S. Assistant Secretary of State David Welch held talks today with Lebanese Prime Minister Fuad Siniora on the conflict between Israel and Lebanon's Hizballah militia group. He said the talks were an important step and that the United States was determined to "put behind us forever" the violence that has hit Lebanon in the past few weeks. But, he added, difficult challenges still needed to be overcome.
The talks come almost a week after Secretary of State Condoleezza Rice canceled a visit to Beirut during a Middle East tour after Israel bombed the Lebanese village of Qana, killing dozens of civilians.
Protests In Beirut, London
Several hundred people protested in Beirut against Welch's visit, chanting support for Hizballah and burning Israeli and U.S. flags, a protest at what they see as U.S. support for Israel's offensive in Lebanon.
Also today, protesters gathered in London to demand a cease-fire in Lebanon between Israeli forces and Hizballah militants.
Police said between 7,000 and 8,000 people gathered in Hyde Park before marching past the U.S. Embassy and on to Parliament.
Organizing the march was a coalition of peace, Muslim, Palestinian, and Lebanese groups. They were demanding an end to fighting that has killed more than 600 people, most of them civilians.
The United States and Britain have been reluctant to call for an immediate cease-fire in Lebanon.
(compiled from agency reports)
The Middle East Crisis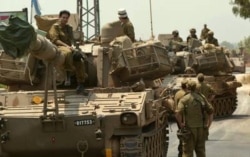 Israeli tanks poised on the border with Lebanon on August 2 (epa)
CLASH OF ARMS:
Since mid-July, Israel has been battling Hizballah guerrillas in southern Lebanon and carrying out punishing air strikes throughout the country. International efforts to broker a cease-fire have met with one obstacle after another, as civilian casualties mount and a humanitarian crisis unfolds. Since Hizballah is closely supported by Syria and Iran, the conflict threatens constantly to develop into a regional conflagration....
(more)
RELATED ARTICLES
Israel Steps Up Assault Despite Hizballah Warning
'We The People Are The Big Losers'
Iranians 'Volunteer' To Help Hizballah
Lebanon Cancels Talks After Bloody Qana Attack
The World Searches For An Elusive Solution
Analyst Says 'U.S. Needs To Talk To Syria, Iran'