The violence comes as the UN Security Council is set to discuss a resolution urging an immediate cease-fire after more than three weeks of Israeli-Hizballah hostilities.
The deaths occurred when Israeli warplanes raided a depot near the village of Qaa in the Bekaa Valley of northeastern Lebanon.
Security sources say most of the victims, at least 28, were Syrian Kurdish farm workers who had been loading fruit on to trucks.
Reports say 12 others were wounded and ferried to hospitals in nearby Syria.
The attack, which was beyond Hizballah's southern heartland, came after Israeli jets earlier today destroyed four bridges on the main coastal highway north of Beirut to Syria.
Israel said the bridges were destroyed to prevent Syria from rearming Hizballah, but the attack has disrupted efforts to aid civilians.
Israel's biggest city Tel Aviv, meanwhile, braced for possible retaliatory Hizballah rocket fire after a televised threat on August 3 from the militia's leader, Hassan Nasrallah, who warned that if Israel extends its strikes on Beirut, "the Islamic Resistance will strike Tel Aviv, and it is able to do so with the help of God."
Nasrallah also told Israel that "if at any time you decide to stop your campaigns on our cities, villages, civilians, and infrastructure, we will not strike with rockets any settlement or Israeli city."
More than 150 Israeli air strikes hit targets across the south and artillery pounded border areas as Hizballah tried to stop Israeli incursions near Markaba and a strategic hill near the coastal town of Naqoura.
Israel said it lost two soldiers in the fighting there. Arab media reported Israel lost six soldiers in the village-to-village combat near the border, while Israel says it killed seven Hizballah fighters.
Israel also says it lost three civilians to Hizballah missiles fired into northern Israel.
The Israeli army says it has carved out a security zone some seven kilometers into Lebanon. But with 10,000 soldiers at its disposal, it says it is prepared to more than double the size of the zone, if authorized to do so by the government.
Meanwhile in New York, the 15-nation UN Security Council is to set meet to discuss a French-proposed resolution that would call for an immediate cease-fire and set terms for deploying an international peacekeeping force in southern Lebanon.
In Moscow, Russian Security Council chief Igor Ivanov said after meeting with Lebanon's parliamentary majority leader, Saad Hariri, that "we are working with our Security Council partners to draw up a resolution that would allow for an immediate cessation of hostilities and an end to the killing of innocent civilians."
Diplomats from the United States and France are set to hold more talks to today to try to bridge their differences over the draft UN resolution.
Washington wants an international force in southern Lebanon immediately after a truce. France, a likely leader of the force, wants the troops in only after a permanent ceasefire.
Some 720 people in Lebanon and more than 70 Israelis have been killed in the conflict, which began after a cross-border raid in which Hizballah captured two Israeli soldiers on July 12.

The Middle East Crisis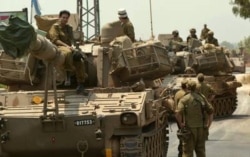 Israeli tanks poised on the border with Lebanon on August 2 (epa)
CLASH OF ARMS:
Since mid-July, Israel has been battling Hizballah guerrillas in southern Lebanon and carrying out punishing air strikes throughout the country. International efforts to broker a cease-fire have met with one obstacle after another, as civilian casualties mount and a humanitarian crisis unfolds. Since Hizballah is closely supported by Syria and Iran, the conflict threatens constantly to develop into a regional conflagration....
(more)
RELATED ARTICLES
Israel Steps Up Assault Despite Hizballah Warning
'We The People Are The Big Losers'
Iranians 'Volunteer' To Help Hizballah
Lebanon Cancels Talks After Bloody Qana Attack
The World Searches For An Elusive Solution
Analyst Says 'U.S. Needs To Talk To Syria, Iran'