Serbia Hands Over Footage Of Execution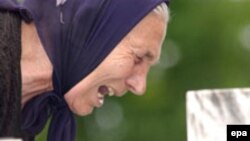 A Serb woman mourns for a relative killed in the Bosnian war (file photo) (epa) August 8, 2006 -- Serbia's war crimes prosecutor's office says it has handed over to colleagues in Croatia and Bosnia video footage purportedly showing paramilitaries from the two countries killing a Croatian Serb civilian in 1995.
It says the video has also been given to the UN war crimes tribunal in The Hague.
In a statement, Serbia's President Boris Tadic said he expects Croatian authorities to give the "utmost importance to prosecuting war crimes."
(AP)