Serbia Wants Croatia To Ease Return Of Refugees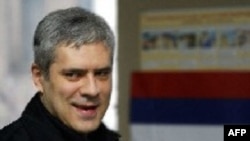 Serbian President Boris Tadic (file photo) (AFP) June 27, 2006 -- Serbian President Boris Tadic today called for Croatia to do more to enable the return of ethnic Serb refugees who fled the country during the 1991-1995 war.
Speaking alongside Croatian President Stipe Mesic after the two met in the Croatian capital, Zagreb, Tadic said that Croatia has made some efforts to facilitate the return of refugees, but that more progress needs to be made.
Tadic also said that it is in Serbia's interests for Croatia to meet its strategic goals, which, he said, will enable other Balkan countries to follow its example and move closer to the European Union.
Tadic is scheduled to visit the town of Knin, the site of a Croatian Serb rebellion against Croatia's decision to declare independence from Yugoslavia.
(AFP, AP, Reuters)