Retired Russian Colonel Gets 13 Years For Spying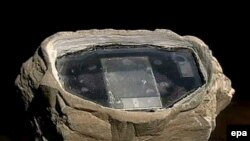 The activities of Britain's intelligence services hit the headlines in January, amid claims that they used this fake rock as a dead drop (epa) August 9, 2006 -- A retired Russian colonel has been sentenced to 13 years in prison by a Moscow military court for handing classified information to Britain's foreign intelligence service, MI6.
Russian investigators say Sergei Skripal, 55, received about $100,000 from MI6 over a period of several years for the information, which included the identity of dozens of Russian undercover intelligence agents working in Europe.
Russia's chief military prosecutor, Sergei Fridinsky, voiced satisfaction at Skripal's sentence, calling it "lawful and justified."
The Russian daily "Izvestia" reports that Skripal's activities seriously disrupted Russia's espionage activities in Europe.
(AP, AFP, ITAR-TASS)
MORE: Coverage of this story in Russian from RFE/RL's Russian Service.



UPDATED CONSTANTLY: Visit RFE/RL's Russian-language website, featuring news, analysis, features, streaming audio, and more, in Russian, from RFE/RL's Russian Service.
ARCHIVE
RFE/RL's English-language
coverage of Russia
.