Kyrgyz Minister Warns Of Heroin Epidemic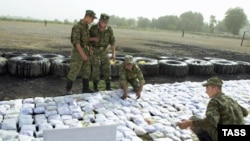 Niyazov blamed trafficking from nearby Afghanistan, such as this seized on the Afghan-Tajik border (ITAR-TASS) August 14, 2006 - Kyrgyz Health Minister Shailoobek Niyazov said today that his country is faced with an epidemic growth of heroin consumption, especially among women and teenagers.
In comments made to Kyrgyzstan's national Kabar news agency, Niyazov blamed drug smuggling from nearby Afghanistan for this alarming situation.
He also said young people aged between 15 and 25, who make up nearly one-fourth of Kyrgyzstan's population, are also victim to the spread of AIDS and HIV-related diseases.
He also said that the number of abortions, syphilis, and other sexually transmissible diseases is growing among Kyrgyz teenagers.
There are officially 937 people registered with HIV in Kyrgyzstan, including 68 with AIDS. Niyazov put the country's current HIV/AIDS morbidity at 13 per 100,000 inhabitants.
(Kabar)
RFE/RL Central Asia Report

SUBSCRIBE For regular news and analysis on all five Central Asian countries by e-mail,
subscribe to "RFE/RL Central Asia Report."