The contract is the latest in a slew of recent purchases abroad of heavy equipment for Turkmenistan.

It also follows the announcement of an ambitious project to build a 1,500-kilometer highway connecting Turkmenistan's western Caspian Sea coast to the eastern part of the country.

Turkmen's official TDH news agency reports that U.S. Case New Holland will supply 220 tractors, 100 cotton harvesters, and 400 other pieces of equipment.

Turkmenistan's President Saparmurat Niyazov signed the tractor deal on August 15 in Ashgabat, TDH reported.

Niyazov on August 11 approved the signing of a $23 million contract with Russia's KAMAZ for the purchase of 600 15-ton dump trucks. The same day, he instructed his government to negotiate a $13 million deal for the purchase of German-made asphalt paving machines.
Niyazov's contruction projects have included a huge gold-plated statue of himself in the capital, as well the recent commissioning of a 40-meter monument bearing the presidential flag to celebrate 15 years of Turkmenistan's independence.
(turkmenistan.gov.tm)
An Increasingly Thirsty World
An Increasingly Thirsty World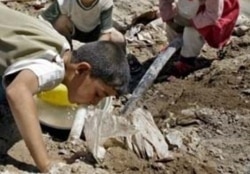 An Iraqi boy drinks from a waste-water reservoir near Baghdad (epa file photo)

A MATTER OF LIFE AND DEATH. Disputes about access to water are increasingly coming to the center of global attention, especially in China, India, and Central Asia. Writing about the 1967 Six Day War in his 2001 memoirs, Israeli Prime Minister Ariel Sharon said that "while border disputes between Syria and ourselves were of great significance, the matter of water diversion was a stark issue of life and death." (more)
RELATED ARTICLES
Tibetan Water Plans Raise Concerns
Environmentalists Say China Misusing Cross-Border Rivers
China's Economic Boom Strains Environment
Nature Waits For Cross-Border Sanctuaries To Catch On
Overused Rivers Struggle To Reach The Sea
UN Water Report Takes A Hard Look At Central Asia
Irrigation, Pollution Threaten Central Asian Lakes


THE COMPLETE STORY: Click on the icon to view a dedicated webpage bringing together all of RFE/RL's coverage of Kazakhstan, Kyrgyzstan, Tajikistan, Turkmenistan, and Uzbekistan.