Officials say the new facility will house inmates sentenced to lengthy jail terms -- including life imprisonment.

The pro-government press-uz.info website quotes an Interior Ministry spokesperson as saying that construction began in July.

The prison is due to be inaugurated by the end of next year, coinciding with what the ministry says are President Islam Karimov's plans to abolish the death penalty.

The facility -- designed for 750 inmates -- is being built in Jasliq, a remote village of the northwestern autonomous republic of Qaraqapalghistan.

Independent Uzbek media are questioning official claims that the new prison will meet international human rights standards.

The dissident website uzbekinfo.org this week quoted rights campaigners as saying that the climate in northwestern Uzbekistan -- particularly to the south of the Aral Sea -- is so harsh as to be life-threatening.
Western diplomats and international organizations have accused Uzbek authorities of regularly using torture against detainees.
U.S. Report On Global Human Rights
U.S. Report On Global Human Rights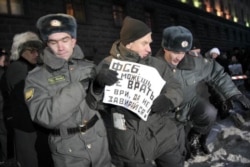 Police in Moscow arrest human rights demonstrators on February 1 (courtesy photo)
THE RECORD ON RIGHTS: On March 8, the U.S. State Department issued its global report on human rights. According to the report, 15 years after the breakup of the Soviet Union, human rights are improving in many post-communist countries. But problems persist in others, it says, despite the worldwide explosion of information and Western efforts to spread democracy. (more)
For more detailed information, see:
Azerbaijan Cited For Political Harassment, Police Brutality
Child Labor, Human Trafficking Cited In U.S. Report On Afghanistan
U.S. Says China, Iran 'Most Systematic' Rights Violators
Human Rights Not A Priority In Central Asia, U.S. Report Says
U.S. Report Points To Serious Abuses In Iraq
Abuses In Chechnya, Centralized Power Cited In U.S Report On Russia
U.S. Says Serious Human Rights Violations Occurring In Iran



SUBSCRIBE
For a regular review of civil-society developments throughout RFE/RL's broadcast region,
subscribe to "RFE/RL (Un)Civil Societies."