Government spokesman Lyoma Gudayev said he turned himself in at the
residence of Chechen Prime Minister Ramzan Kadyrov in Gudermes today.
Doku Umarov took over the leadership of the separatist movement in June
after Russian forces killed Abdul-Khalim Sadulayev. Umarov's importance
to the separatist movement increased further in July after separatist
commander Shamil Basayev was killed.
Neither Russian nor Chechen officials have commented on whether the terms of Umarov's brother's surrender were related to an amnesty offered last month for separatist fighers who agree to disarm.
(RFE/RL's North Caucasus service, with agency reports)
Shamil Basayev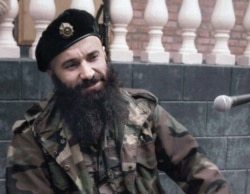 Shamil Basayev in September 1999 (epa)

MASTERMIND OF BUDYONNOVSK, BESLAN: Radical Chechen field commander Shamil Basayev waged a 15-year campaign against Russian control of Chechnya, including masterminding some of the most audacious terrorist acts the world has ever seen. Below are links to some of RFE/RL's reporting about Basayev in recent years.
RELATED ARTICLES
The Rise Of Russia's 'Terrorist No. 1'
Is Basayev Planning To Torpedo The Russian-Chechen Power-Sharing Treaty?
Basayev Rejoins Chechen Rebel Government
Basayev Says He Helped Plan Nalchik Raid
Basayev Says Beslan Raid Prompted By FSB Sting
Moscow Says It Will Punish U.S. TV Network Over Basayev Interview
Budyonnovsk Marks 10th Anniversary Of Terrorist Raid
Look Back In Anger -- Ten Years Of War In Chechnya
CHRONOLOGY
An
annotated timeline
of the conflict.

ARCHIVE
RFE/RL's complete coverage of Russia's war-torn Republic of Chechnya.