Former Iranian President Urges U.S. To 'Learn' From Lebanon Conflict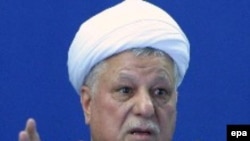 Ali-Akbar Hashemi-Rafsanjani (file photo) (epa) August 18, 2006 -- Former Iranian President Ali-Akbar Hashemi-Rafsanjani said today he hopes the United States will "learn a lesson" from the recent fighting in Lebanon and not stir any more troubles in the Middle East.
Referring to Iran's nuclear dispute with the world community, Rafsanjani said it should be solved peacefully.
"We hope that America will learn its lesson and will not enter a new conflict to disturb security in this region," he said. "It should let the wise people untie the knots and solve this regional and global problem (Iran's controversial nuclear program) through negotiations."
Rafsanjani made those remarks during a Friday prayers sermon broadcast live on state television.
The former president now heads Iran's influential Expediency Council, which arbitrates between the parliament and the ruling hierarchy.
(IRIB, Reuters, AP)

SUBSCRIBE For regular news and analysis on Iran by e-mail,
subscribe to "RFE/RL Iran Report."