Russia Pays Off Paris Club Debt In Full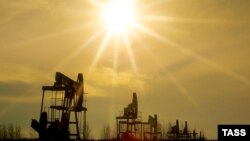 Russia's finances have benefited from a sustained period of high oil and gas prices (ITAR-TASS) August 21, 2006 -- Russia today completed the early repayment of its total debt to the Paris Club of creditor nations.
The transfer, worth $23.7 billion, ends the official debt history of the former Soviet Union. Russia transferred $700 million in mid-August.
This is the largest prepayment ever made to the Paris Club, an informal group of creditor governments that every month meets in Paris with debtor countries to agree the restructuring of their debts.
(AFP, Interfax)



UPDATED CONSTANTLY: Visit RFE/RL's Russian-language website, featuring news, analysis, features, streaming audio, and more, in Russian, from RFE/RL's Russian Service.
ARCHIVE
RFE/RL's English-language
coverage of Russia
.