The meeting comes amid warnings from Western and Afghan officials about record opium cultivation this year -- up by as much as 40 percent over 2005. Much of the increase appears to be in the southern provinces like Helmand, where fierce fighting has prevented the government's poppy eradication efforts from taking hold.
Afghan Counternarcotics Minister Habibullah Qadiri says opium cultivation has likely increased this year, even though three times more poppy fields have been eradicated than last year.
Speaking on the eve of today's antidrug conference in Kabul, Qadiri told reporters that a lack of security in Helmand Province has allowed as much as a threefold increase in poppy cultivation there.
"Narcotics has got to be eradicated from this country or there will never be the peace and stability in the long term." NATO commander
Western officials and diplomats have told RFE/RL that a report to be published on September 12 by the UN Office on Drugs and Crime will show that more Afghan farmland is being used to grow opium poppies than ever before.
Offering Farmers Alternatives
Mohammad Mosa Hamid, an adviser to Afghanistan's Counternarcotics Ministry, told RFE/RL's Radio Free Afghanistan that he initially was surprised to hear what Western officials are saying.
"We hear some information from here and there [about increased poppy cultivation this year], but we need to wait until we receive the evidence," he said. "And then we can judge whether poppy has been cultivated [at a record level] or not. I hope it hasn't...I do not think that poppy cultivation has increased because we have aid programs distributing seeds for alternative crops."
Hamid explained that the focus of the government's counternarcotics strategy has been to help wean farmers away from growing opium poppies and reiterates that far more poppy fields across Afghanistan have been destroyed this year compared to last year.
"We have been launching such programs this year -- successful programs like providing farmers with alternative livelihoods," he added. "And we have tried to explain to them through other legal ways that the poppy illness is a bad thing. It causes a lot of problems internally and internationally."
The Afghan government has not yet completed its own national survey of the areas being planted with poppies.
The British government, which has a lead role in supporting Afghan counternarcotics programs, also says it wants to wait until the new UN statistics are published before commenting on the report.
Southern Violence Hampers Efforts
But privately, British and U.S. officials in Kabul and London say there is no doubt that poppy cultivation has risen significantly since last year -- possibly by as much as 40 percent.
Notably, they say cultivation did not increase across all of Afghanistan's provinces. Eradication efforts have been successful in some parts of the country. But they say the resurgence of Taliban-related violence in southern Afghanistan this year has prevented eradication efforts from being effective in Helmand and other volatile provinces.
According to some officials, Helmand Province now accounts for more than 40 percent of opium poppy cultivation nationwide.
Tom Koenigs, the top UN official in Afghanistan, has said that fears of fanning the insurgency have constrained efforts to destroy the poppy crops of impoverished farmers in Helmand. Koenigs said that if foreign troops start destroying poppy fields, the effort will lead to a popular backlash that increases both the number of Taliban fighters and their attacks.
For that reason, officials say, little eradication work has been done by the Afghan government or British soldiers deployed to Helmand this year as part of the expanding NATO-led International Security Assistance Force (ISAF).
The ISAF commander, Lieutenant General David Richards, told RFE/RL's Radio Free Afghanistan that bringing security to remote provincial areas has been a more immediate priority than opium eradication.
Counternarcotics "isn't my principal concern," Richards said. "If we are asked by the government to support an operation to do with narcotics in some way, we will positively look at it. And that is our obligation to them."
Indeed, Afghan President Hamid Karzai's government faced a backlash from farmers in southern Afghanistan last year amid rumors that Western military aircraft were being used to spray poison chemicals on poppy fields.
Lieutenant General Richards said the rumors about foreign troops being deployed to destroy poppy fields are not true.
Confronting Narcotics
"NATO-ISAF is not targeting farmers," he said. "We understand exactly that there must be other ways for them to make a living before we stop them -- if we ever got involved with it -- growing their poppy, because they have to feed their families in some way.

"We also know that, at the end of the day, narcotics has got to be eradicated from this country or there will never be the peace and stability in the long term," Richards added. "So [counternarcotics efforts are] there. But it is not our immediate agenda. And we have other things that we'd like to do to help people out of their predicament."
Kabul's counternarcotics strategy received international backing in the spring at the London Conference on Afghanistan. That strategy envisions Afghan officials leading the effort with foreign troops providing support only when requested to do so by Kabul.
But the apparent increased cultivation in the south has raised fresh concerns about links between Taliban fighters and Afghan drug lords.
President Karzai also has said that corruption within provincial governments, as well as within the administration in Kabul, has contributed to the problem.
Positive Results, Too
The issues are expected to dominate today's conference in Kabul on Afghanistan's counternarcotics strategy.
New or amended drug laws are anticipated along with the construction of high-security prisons, the creation of special courts for drug barons, and a program to train judges and prosecutors about the narcotics trade.
Some success has resulted from the millions of dollars given by the United States and Britain to help combat Afghanistan's flourishing drug trade.
With the help of a strong governor and police chief, the eastern Nangarhar Province reduced opium output by 96 percent last year. Since March of this year, counternarcotics police have raided 10 opium laboratories throughout the country -- seizing 1,225 kilograms of heroin and nearly 800 kilograms of opium.
(Farida Hod Saifi of RFE/RL's Radio Free Afghanistan contributed to this report from Prague.)
The Afghan Insurgency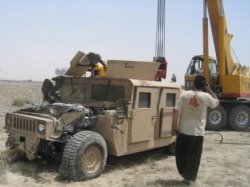 A U.S. military vehicle damaged by insurgents near Kandahar (epa)
HOMEGROWN OR IMPORTED? As attacks against Afghan and international forces continue relentlessly, RFE/RL hosted a briefing to discuss the nature of the Afghan insurgency. The discussion featured Marvin Weinbaum, professor emeritus of political science at the University of Illinois at Urbana-Champaign, and RFE/RL Afghanistan analyst Amin Tarzi.
LISTEN
Listen to the entire briefing (about 83 minutes):
Real Audio
Windows Media
ARCHIVE
RFE/RL's
coverage of Afghanistan
.
SUBSCRIBE
For weekly news and analysis on Afghanistan by e-mail,
subscribe to "RFE/RL Afghanistan Report."