According to official statistics, 36,000 foreign tourists came to Belarus in the first quarter of 2006. Most of them came from neighboring Russia, Ukraine, Poland, and the Baltic states.
Most popular is Minsk, Belarus's capital, which attracted some 26,000 tourists in that period.
The number is very small when compared to Belarus's neighbors. Last year, some 3.5 million tourists visited Latvia and more than 2 million came to Lithuania.
Lack Of Infrastructure...
The head of Latvia's State Tourism Agency, Valdis Vitalns, says Belarus invests too little money in tourist infrastructure and creates too many bureaucratic hassles for potential visitors.
"We have no infrastructure. Why should
people come here?"
Many Belarusians seem to agree. One young man, who declined to give his name, tells RFE/RL's Belarus Service in Minsk: "We have no infrastructure. You come to Mir [a medieval castle near Minsk] and, I am sorry to say, there is no toilet there. Why should people come here?"
...Or Promotion?
A young woman says the authorities should allocate more money for advertising. She says that since foreigners know very little about Belarusian history and culture, they have no desire to visit the country.
"We simply need more promotion."
"We simply need more promotion," she says. "We need to promote such places of interest such as the Mir Castle. Then I think we will have more tourists."
Belarusian officials say they are trying to fix the situation. Viktor Yankovenka, chief tourism expert at the Ministry of Sport and Tourism in Minsk, told the Belarusian news agency Belapan that officials want tourists to feel more comfortable in Belarus.
Yankovenka said that starting in the fall, new information points will appear in Minsk, informing visitors of city highlights. He said that in the next few years, Belarus will have new motels, camping grounds, cafes, and parking lots.
He also announced that travel agencies that fail to attract tourists will be closed.
Bad Image Abroad
Others from Minsk say that the environment keeps foreigners away. Belarus was heavily affected by the 1986 Chornobyl nuclear accident.
"People are not coming here because they are afraid of radiation."
"The main reason [why tourists are not coming] is the accident at the Chornobyl nuclear plant," one young man says. "People are not coming here because they are afraid of radiation."
But perhaps the problem lies deeper. A young woman from Minsk, who also declines to give her name, says the problem is Belarus's general image, which is seen as undemocratic in the West. "They [tourists] do not like our regime," she says.
Western countries have denounced as fraudulent Belarus's March 19 presidential election, in which Alyaksandr Lukashenka was reelected. The authorities have been widely accused of violating human rights and restricting political freedoms.
Meanwhile, the number of Belarusians traveling abroad is decreasing. In the first quarter of this year, some 224,000 Belarusians went abroad, 10,000 less than in the first quarter of 2005.
(Based on material from RFE/RL's Belarus Service)
Chornobyl's Contamination Of Europe
Chornobyl's Contamination Of Europe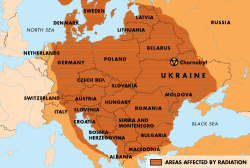 Click on the map to enlarge.

NOT JUST A LOCAL PROBLEM: On April 27, 1986, the day after the explosion at Chornobyl, workers at Sweden's Forsmark Nuclear Power Plant were found to have radioactive particles on their clothes, which led to a search for the source, and the first suspicions that a nuclear accident had occurred in the Soviet Union.
The cloud of radioactive particles from Chornobyl passed over Scandinavia, the Netherlands, Belgium, and the British Isles, before the wind changed, after which it was blown south over much of Europe. Radioactive contamination from the Chornobyl disaster was also detected as far away as North America and Japan.
LOCAL COVERAGE: Click here to see RFE/RL's coverage of Chornobyl in Russian, Ukrainian, or Belarusian.

Click on the icon to view the slideshow