A spokesman for the U.S. Embassy in Bishkek, Azamat Ababakirov, says Washington is urging the Kyrgyz government to investigate reports that the two men are being detained in neighboring Uzbekistan.
"According to information provided by the UN [High Commissioner for Refugees] and Kyrgyz nongovernmental organizations, those two [asylum seekers] are currently being held in a pretrial detention center in the Uzbek city of Andijon," he said. "We urge the Kyrgyz government to swiftly and fully investigate those reports. We urge the Kyrgyz government to take immediate steps to ensure the safety and rights of all refugees and people awaiting refugee status."
Eyewitnesses say individuals claiming to be Kyrgyz security officers took away Valijon Bobojonov and Saidullo Shokirov from their homes last week.
Kyrgyzstan and Uzbekistan have both denied any involvement into the disappearance of the two men.
Bobojonov and Shokirov sought shelter in Osh in the wake of the May 2005 bloody military crackdown that followed antigovernment protests in Andijon.
Kyrgyzstan on August 9 extradited another four Andijon refugees and one asylum seeker to Uzbekistan, where they were charged for their alleged participation in the Andijon unrest.
International organizations have condemned Kyrgyzstan's deportation order.
Hizb Ut-Tahrir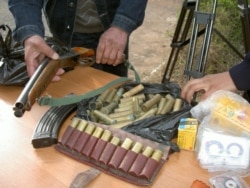 Arms and leaflets allegedly confiscated from Hizb ut-Tahrir members in Kyrgyzstan in May (RFE/RL)

ATTRACTIVE TO THE YOUNG: It is virtually impossible to estimate the size or composition of Hizb ut-Tahrir's membership in Central Asia, because the controversial movement is banned in most places. But some observers say anecdotal evidence suggests the group's core of younger members is growing....(more)
RELATED ARTICLES
Russia Approves List Of 17 'Terrorist' Groups
Extremist Threats, And Doubts, In Kyrgyzstan, Tajikistan
Hizb Ut-Tahrir's Calls For Islamic State Find Support
Hizb Ut-Tahrir Challenges Britian's Proposed Ban
Lone Islamic Party Pursues Dual Path In Tajikistan

A thematic webpage devoted to issues of religious tolerance in RFE/RL's broadcast region and around the globe.