He added that his government is willing to talk to the international community about all outstanding issues, but he questioned the veto right of the UN Security Council's permanent members and defended Iran's right to develop peaceful nuclear energy.
Ahmadinejad called Iran's response to an incentives package aimed at convincing Tehran to abandon uranium enrichment a "very exceptional opportunity" to resolve the dispute. Iran denies it is pursuing nuclear weapons.
He said he believes it is unlikely the Security Council will act, but said Iran "will not bow to threats and ultimatums."
In a reference to Israel, he also said Iran wants the "root of tensions" in the Middle East to be "removed."
Ahmadinejad also called for a televised debate with U.S. President George W. Bush on world issues.
"I propose holding a live, televised debate with Mr. Bush, the U.S. president, so that we talk about world's issues and ways to solve the world's problems," Ahmadinejad said. "We will announce our views and they would do the same, but under the condition that it will not be censored, especially for the American people."
His comments come two days before a Security Council deadline for Tehran to stop uranium enrichment.
Ahmadinejad's Letter To Bush
Ahmadinejad's Letter To Bush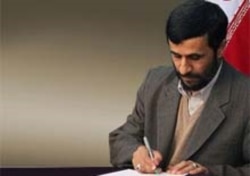 (Fars)


PRESIDENT TO PRESIDENT: On May 8, the Iranian government announced that President Mahmud Ahmadinejad had sent a letter to U.S. President George W. Bush. The letter was the first direct communication between leaders of the two countries since Iran's 1979 Islamic Revolution. RFE/RL has posted the English version of Ahmadinejad's letter that was posted on the Iranian president's website.
"The people will scrutinize our presidencies," AHMADINEJAD wrote. "Did we manage to bring peace, security, and prosperity to our people or insecurity and unemployment? Did we intend to establish justice, or just support special-interest groups and -- by forcing many people to live in poverty and hardship -- make a few people rich and powerful, -- thus trading the approval of the people and the Almighty for [that of those few]? Did we bring the world peace and security or did we raise the specter of intimidation and threats?"...(more)
ARCHIVE
For an archive of RFE/RL's coverage of Iran, click here.


THE COMPLETE PICTURE: RFE/RL's complete coverage of controversy surrounding Iran's nuclear program.
CHRONOLOGY
An annotated timeline of Iran's nuclear program.