Bush, who is beginning a series of speeches today to counter opposition to the war, spoke at a political fundraiser in the state of Tennessee. He said Iraq could become more dangerous than Afghanistan was under the Taliban militia, because of its oil resources.
Bush delivers the first in a series of speeches on his campaign against terrorists at the annual American Legion convention in Salt Lake City. The appearances will culminate on September 19 when Bush addresses the UN General Assembly.
Meanwhile, General George Casey, the top U.S. commander in Iraq, has expressed optimism that Iraqi forces are making enough progress to provide their own security within 18 months.
"I can see over the next 12-18 months, I can see the Iraqi security forces progressing to a point where they can take on the security responsibilities for the country with very little coalition support," Casey said.
However, violence showed no sign of abating, with some 66 people killed across Iraq on August 30, including 24 in a Baghdad market bombing.
More than 200 people have been killed since the beginning of the week in clashes, bombings, and shootings.
(compiled from agency reports)
The International Coalition In Iraq
The International Coalition In Iraq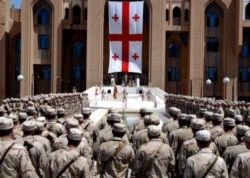 Georgian soldiers marking Georgian Independence Day in Baghdad on June 6 (epa)
COALITION MEMBERS: In addition to the United States, 28 countries are Multi-National Force-Iraq (MNF-I) contributors as of May 31, 2006: Albania, Armenia, Australia, Azerbaijan, Bosnia-Herzegovina, Bulgaria, the Czech Republic, Denmark, El Salvador, Estonia, Georgia, Italy, Japan, Kazakhstan, Latvia, Lithuania, Macedonia, Moldova, Mongolia, the Netherlands, Poland, Portugal, Romania, Singapore, Slovakia, South Korea, Ukraine, and the United Kingdom. Fiji is participating as part of the UN mission in Iraq. Hungary, Iceland, Slovenia, and Turkey are NATO countries supporting Iraqi stability operations but are not part of MNF-I.
NON-U.S. MILITARY PERSONNEL IN IRAQ: United Kingdom, 8,000 as of May 26, 2006; South Korea, 3,237 as of May 9, 2006; Italy, 2,900 as of April 27, 2006; Poland, 900 as of May 30, 2006; Australia, 900 as of March 28, 2006; Georgia, 900 as of March 24, 2006; Romania, 860 as of April 27, 2006; Japan, 600 as of May 30, 2006; Denmark, 530 as of May 23, 2006; All others, 1,140.
(Source: The Washington-based Brooking Institution's Iraq Index of June 15, 2006)


THE COMPLETE STORY: RFE/RL's complete coverage of events in Iraq and that country's ongoing transition.
RADIO FREE IRAQ: To visit the Arab-language website of RFE/RL's Radio Free Iraq, click here.