Extremist Sentenced For Blowing Up Tsars' Monuments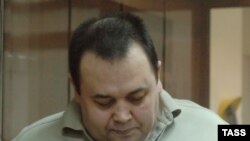 Igor Gubkin in court today (ITAR-TASS) August 31, 2006 -- The Moscow City Court today sentenced the self-declared former leader of a radical leftist group to 19 years in prison for blowing up a monument of Tsar Nicholas II and preparing to blow up a monument of Peter the Great in Moscow in 1997.
Igor Gubkin is already serving a 14-year prison term for murder. When it was set up in 1997, his group -- Revvoensovet -- said its aim was restoring the Soviet regime.
(lenta.ru, newsru.com)


UPDATED CONSTANTLY: Visit RFE/RL's Russian-language website, featuring news, analysis, features, streaming audio, and more, in Russian, from RFE/RL's Russian Service.
ARCHIVE
RFE/RL's English-language
coverage of Russia
.