Moscow Synagogue Attacker Facing 16 Years In Jail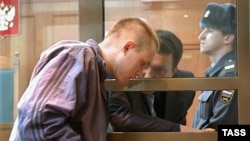 Aleksandr Koptsev on trial in March (ITAR-TASS) August 31, 2006 -- Prosecutors have asked the Moscow City Court to sentence to 16 years in prison a man who stabbed nine worshippers at a Moscow synagogue.
Prosecutors also asked the court to convict Aleksandr Koptsev of attempted murder for religious and racial motives.
A Moscow court in March sentenced Koptsev to 13 years in prison for attempted murder, but acquitted him of the charge of committing a racist crime.
Russia's Supreme Court then ordered a retrial.
(RIA Novosti, ITAR-TASS)