The trial into the murder of Kazakh opposition politician Altynbek Sarsenbaev and two aides ended today with convictions against all 10 defendants.
A former security officer and the alleged planner, Rustam Ibragimov, was sentenced to death -- although a Kazakh moratorium on capital punishment means he likely faces life imprisonment.
The former legislative administrator who prosecutors claimed contracted the murder, Erzhan Utembaev, received a 20-year sentence.
Suspicious Eyes
The Kazakh public and interested foreign parties have closely followed the court proceedings in Taldy-Qorgan, some 200 kilometers north of Almaty, since they began on June 14.
The verdict leaves many questions unanswered, however.
Defendants claimed to have been "set up" by some of the highest-ranking officials in the country. Relatives and supporters of the slain politician along with a number of opposition groups agree. They say the defendants are scapegoats and the real culprits are still at-large.
$60,000 Bounty
But the three-judge panel in this highly charged case concluded that the 10 men are guilty as charged.
Chief judge Lukmat Merekenov began today's court session by saying a key defendant, Ibragimov, had been paid $60,000 to organize the killing.
Judge Merekenov sentenced the former head of the Senate administration, Utembaev, to 20 years in prison for ordering the killing. The court accepted prosecutors' argument that Utembaev wanted to kill Sarsenbaev over comments he had made in a newspaper interview.
Security Ties
The bodies of Sarsenbaev, a bodyguard, and a driver were discovered in the mountains in mid-February-- three days after they had disappeared from Almaty.
The murder of Sarsenbaev, a former Information Minister and ex-ambassador to Russia who brought instant clout to the opposition party that he helped form -- sparked a major probe.
The investigation eventually netted Ibragimov, Utembaev, and several members of the National Security Committee's special operations unit. Prosecutors contended that the motive was Sarsenbaev's suggestion in an interview that Utembaev abused alcohol.
Utembaev and Ibragimov repeatedly disputed prosecutors' claims.
Opposition Mistrust
Just days before the verdict, another prominent opposition figure -- Zharmakhan Tuyakbai -- announced that the political opposition would conduct its own investigation into the killing. Tuyakbai, the leader of the Naghyz Ak Zhol party that he and Sarsenbaev helped found, on August 29 called the trial a travesty and part of a cover-up.
"One cannot say that officials are interested in bringing other people to court as suspects," Tuyakbai said. "They fear such people should be sought among the top echelons of power. [Authorities'] main objective is to leave the situation as it is and [prevent] any further investigation, so that those stooges are convicted as the main culprits. In other words, they're eager to put an end to this story in order to prevent further hearings and investigations."
The other eight defendants received sentences ranging from one 20-year sentence to imprisonment of between three and 14 years.
Sarsenbaev family members, who had sought to have the trial moved to Kazakhstan's second city, Almaty, boycotted the proceedings and condemned it as a "farce."
(Donabek Zhalmurza, Merhat Sharipzhan, and Edige Magauin of RFE/RL's Kazakh Service contributed to this report.)
Kazakhstan's Fallen Opposition
Kazakhstan's Fallen Opposition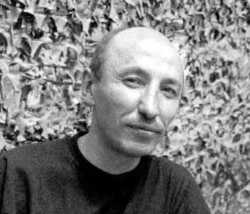 Slain Kazakh journalist Askhat Sharipzhanov (undated RFE/RL file photo)
February 13, 2006:
Altynbek Sarsenbaev
-- a leader of the Kazakh opposition, co-chairman of the Naghyz Aq Zhol party, former minister of information, former Kazakh ambassador to Russia, former secretary of Kazakhstan's Security Council -- is found dead with his bodyguard and his driver, shot to death, execution style, with their hands bound behind their backs.
November 11, 2005: Zamanbek Nurkadilov-- prominent Kazakh politician, former mayor of Almaty, former Minister of Extraordinary Situations, and since a vocal critic of President Nursultan Nazarbaev since March 2004 -- is found shot to death, with two shots in his chest and one in his head. Kazakh authorities officially rule the case a suicide.
June 2, 2005: Batyrkhan Darimbet -- opposition journalist and editor in chief of the weekly AZAT -- is killed in what is officially reported as a traffic accident. Relatives and activists assert that it was a political killing.
December 19, 2004: Erzhan Tatishev -- head of Kazakhstan's largest bank, TuranAlemBank -- is killed in what was officially described as a hunting accident. Kazakh political observers allege that it was a premeditated assassination.
July 20, 2004: Askhat Sharipzhan-- independent journalist and political commentator for NAVI online -- dies of injuries sustained several days earlier in what was officially reported as a hit-and-run accident. Relatives and colleagues believe it was an assassination.
November17, 2002: Independent journalist Nuri Muftakh is killed in what is officially reported as a traffic accident. Colleagues and activists regard the death as suspicious.
January 4, 2002: Human rights activist Aleksei Pugaev is found dead, the victim of a hit-and-run car accident. Colleagues regard the circumstances as suspicious and no one is ever arrested in connection with the death.
(compiled by RFE/RL's Kazakh Service)
RELATED ARTICLES
Sarsenbaev Murder Trial Begins
Kazakh President Tries To Calm Growing Political Crisis
Nazarbaev Landslide Buries Future Problems
Nazarbaev Touts Stability In Run-Up To Election
ARCHIVE
To view an archive of RFE/RL's coverage of Kazakhstan, click here.

SUBSCRIBE
For weekly news and analysis on all five Central Asian countries by e-mail, subscribe to "RFE/RL Central Asia Report."