WASHINGTON, August 9, 2006 (RFE/RL) -- Defendant Rustam Ibragimov is a former law-enforcement officer charged with killing Sarsenbaev, his driver, and a bodyguard at the behest of Erzhan Utembaev, the former head of the Senate administration. Ibragimov pleaded not guilty when he took the stand, then went on to testify of senior involvement in a conspiracy and coup attempt.
Who's 'Protecting' Whom?
The bodies of Sarsenbaev, his driver, and a bodyguard were discovered outside Almaty on February 13.
Ibragimov testified that on February 15 he spoke with Utembaev, who prosecutors allege paid him to commit the murder to settle a personal grudge against Sarsenbaev. As Ibragimov told the story, Utembaev told him that the opposition leader was to have met on February 11, just days before the killing, with the speaker of the Senate and Utembaev's former boss, Nurtai Abykaev; the head of the Kyrgyz National Security Committee, who stepped down in the wake of the Sarsenbaev killing, Nartai Dutbaev; and the former leader of the presidential administration's religious affairs section, Aleksei Kikshaev.
A transcript by RFE/RL's Kazakh Service shows that Ibragimov suggested that all three men -- Abykaev, Dutbaev, and Kikshaev -- were "protecting" Utembaev. What's more, Ibragimov charged that the three sought to "remove the president of the Republic of Kazakhstan, [Nursultan] Nazarbaev, in two or three years and putting Abykaev in his place."
In a bizarre footnote, Ibragimov also insinuated that one of the men, Kikshaev, has ties to "the CIA and the Vatican."
'Clan Standoff'
The individuals named by Ibragimov did not respond publicly to the allegations against them. But in an interview with the independent Russian-language daily "Liter" on August 4, an adviser to speaker Abykaev made a number of intriguing comments in his defense. Dastan Kadyrzhanov described Abykaev, a longtime ally of President Nazarbaev, as a member of the "old presidential guard." He said Abykaev has supported what he called "the president's policy of checks and balances in society."
Thanks to that approach, Kadyrzhanov said, "the concept of a 'clan standoff' never rose to the top of the political agenda." He stressed Abykaev's loyalty to Nazarbaev, and charged that current "attempts...to lower his actions to the level of intra-clan warfare are pointless."
Clans, or influence groups, have occupied a central place in the fallout from the Sarsenbaev killing. Speculation about the murder and attempts to benefit from it followed the lines of the influence groups that play a key role in Kazakh politics.
Kadyrzhanov's focus on clans is not accidental. Clans, or influence groups, have occupied a central place in the fallout from the mysterious murder of Sarsenbaev. Speculation about the murder and attempts to benefit from it followed the lines of the influence groups that
play a key role
in Kazakh politics. In the weeks after murder, Dutbaev's departure from the National Security Committee and the weakening of Abykaev -- whose subordinate was charged with ordering the murder -- came as a blow to the influence group headed by President Nazarbaev's son-in-law, Timur Kulibaev. At the same time, the influence group headed by presidential daughter Darigha Nazarbaeva and her husband, Deputy Foreign Minister Rakhat Aliev, appeared to be gaining ground.
Darigha Pushed Aside
The picture has changed in the intervening months. Previously, Nazarbaeva had wielded influence through the pro-presidential party that she headed and the state-held Khabar television network, which she reportedly controlled.
But more recently, Darigha's influence has receded on both fronts. In early May, recently appointed Information and Culture Minister Yermukhamet Yertysbaev told parliament that the state needs to reassert its control over Khabar. The move came amid
reports of tension
between Darigha and her father. Then, in early July, Darigha's Asar party merged with another pro-presidential group, the Otan party.
The move
effectively dissolved her party in the larger entity and deprived Darigha of an independent political springboard.
Meanwhile, the rival group of Timur Kulibaev -- who is married to Nazarbaev's second daughter, Dinara -- has been consolidating its influence. Only days before Darigha Nazarbaeva's political party vanished into her father's, Kulibaev was named chairman of the board at national oil and gas company KazMunaiGaz. That is no mean post in light of Kazakhstan's oil wealth.
Kulibaev had previously served as KazMunaiGaz's vice president. But the new appointment pointed to consolidated clout. The chairman of the nongovernmental Network of Independent Observers, Dos Koshim, told RFE/RL that Kulibaev's new post suggested that his influence was growing in comparison to that of Darigha Nazarbaeva and her husband. Koshim said that the move "looks like [President] Nazarbaev's attempt to base his powers not on Darigha and Rakhat, but on his second son-in-law."
Broader Struggle
The connection between these clan conflicts and the testimony Ibragimov presented on August 2 is obscure. We have no way of judging the veracity of Ibragimov's testimony or his motives in presenting it at this stage in the trial.
But the reaction of Abykaev's adviser, who immediately related Ibragimov's allegations to "intra-clan warfare," is telling. For while Ibragimov's charges of a conspiracy and coup d'etat do little to clarify the circumstances of a killing that shook the Kazakh political establishment, they come as further confirmation that the fallout reflects a broader struggle between the influence groups that remain the real power brokers in Kazakhstan's political system.
Kazakhstan's Fallen Opposition
Kazakhstan's Fallen Opposition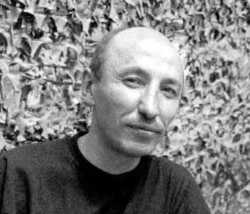 Slain Kazakh journalist Askhat Sharipzhanov (undated RFE/RL file photo)
February 13, 2006:
Altynbek Sarsenbaev
-- a leader of the Kazakh opposition, co-chairman of the Naghyz Aq Zhol party, former minister of information, former Kazakh ambassador to Russia, former secretary of Kazakhstan's Security Council -- is found dead with his bodyguard and his driver, shot to death, execution style, with their hands bound behind their backs.
November 11, 2005: Zamanbek Nurkadilov-- prominent Kazakh politician, former mayor of Almaty, former Minister of Extraordinary Situations, and since a vocal critic of President Nursultan Nazarbaev since March 2004 -- is found shot to death, with two shots in his chest and one in his head. Kazakh authorities officially rule the case a suicide.
June 2, 2005: Batyrkhan Darimbet -- opposition journalist and editor in chief of the weekly AZAT -- is killed in what is officially reported as a traffic accident. Relatives and activists assert that it was a political killing.
December 19, 2004: Erzhan Tatishev -- head of Kazakhstan's largest bank, TuranAlemBank -- is killed in what was officially described as a hunting accident. Kazakh political observers allege that it was a premeditated assassination.
July 20, 2004: Askhat Sharipzhan-- independent journalist and political commentator for NAVI online -- dies of injuries sustained several days earlier in what was officially reported as a hit-and-run accident. Relatives and colleagues believe it was an assassination.
November17, 2002: Independent journalist Nuri Muftakh is killed in what is officially reported as a traffic accident. Colleagues and activists regard the death as suspicious.
January 4, 2002: Human rights activist Aleksei Pugaev is found dead, the victim of a hit-and-run car accident. Colleagues regard the circumstances as suspicious and no one is ever arrested in connection with the death.
(compiled by RFE/RL's Kazakh Service)
RELATED ARTICLES
Sarsenbaev Murder Trial Begins
Kazakh President Tries To Calm Growing Political Crisis
Nazarbaev Landslide Buries Future Problems
Nazarbaev Touts Stability In Run-Up To Election
ARCHIVE
To view an archive of RFE/RL's coverage of Kazakhstan, click here.

SUBSCRIBE
For weekly news and analysis on all five Central Asian countries by e-mail, subscribe to "RFE/RL Central Asia Report."