PRAGUE, July 20, 2006 (RFE/RL) -- Tuyakbai is the leader of the For A Just Kazakhstan movement, a loose union of political opposition groups. He proposed forming a social-democratic party with the goal of "creating a democratic, socially oriented state to use all the potential of the market economy for the good of the common people."
Tuyakbai said the move was approved by delegates at a special party plenum in Almaty on July 15.
Tuyakbai faces two immediate problems: registering his new party and gathering hundreds of thousands of supporters for it to challenge the firmly entrenched current regime.
Party Supports Change
"At the session I forwarded the idea of forming a nationwide social-democratic party," he said. "This was supported by delegates at the congress and adopted in accordance with the decision to support long-term initiatives."
Tuyakbai, a former speaker of Kazakhstan's Mazhilis (the lower house of parliament), has never formally been a member of any opposition party. He ran in Kazakhstan's early presidential elections last December as the candidate from the For A Just Kazakhstan movement and was soundly beaten by incumbent President Nursultan Nazarbaev, who took 91 percent of the vote.
Tuyakbai explained the reason for creating a new party in a statement released on July 19. He said: "As the status of a social organization does not allow it to immediately express the political will of the members and supporters of the movement, for a concentrated decision [to express the will of members and supporters] it is necessary to create an independent political party. This is especially important because the movement's members and supporters are not associated with any existing parties and are, in fact, deprived of a means for expressing political views."
The timing of Tuyakbai's announcement may not be coincidental. Earlier this month the country's two largest political parties, both pro-presidential, merged to form a party that claims a membership of some 700,000 people. Tuyakbai says the For A Just Kazakhstan movement has 300,000 members. There are also rumors running through Kazakhstan that amendments to the constitution could be coming that would alter the structure of the parliament and require early elections.
Communists Not Joining
Tuyakbai said he is not counting on other opposition parties merging with his proposed new party. He pointed out, in fact, that the orientation of his social-democratic party would likely not be acceptable to supporters of Kazakhstan's Communist Party.
Communist Party leader Serikbolsyn Abdildin confirmed this in comments to RFE/RL's Kazakh Service. Abdildin said the idea to form a new political party was Tuyakbai's and, when asked by RFE/RL if the Communist Party might join in this new party, Abdildin said: "No, it is not possible. [The Social-Democratic Party] will be a separate party. In fact, we (eds: the Communist Party members) are the only legitimate opposition party since others have never been registered before."
Actually, opposition parties have been registered, but during a reregistration process mandated by the government in 2003, most of them disappeared. One opposition party trying to register is Alga, but its leader, Asylbek Kozhamet, told RFE/RL's Kazakh Service that neither his party nor the opposition Naghyz Ak Zhol party would join Tuyakbai's social democrats. One of Naghyz Ak Zhol's leaders, Altynbek Sarsenbaev, was murdered in February and the party is still facing registration problems.
Tuyakbai faces two immediate problems: registering his new party and gathering hundreds of thousands of supporters for it to challenge the firmly entrenched current regime. Recent history shows that the first task will be very difficult and -- since no opposition group in Kazakhstan has ever claimed the numbers the new pro-presidential party is boasting of -- the second task may be impossible.
(Merhat Sharipzhan of the Kazakh Service contributed to this report.)
Kazakhstan's Fallen Opposition
Kazakhstan's Fallen Opposition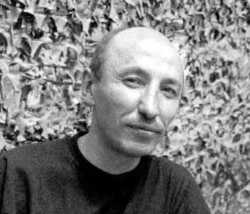 Slain Kazakh journalist Askhat Sharipzhanov (undated RFE/RL file photo)
February 13, 2006:
Altynbek Sarsenbaev
-- a leader of the Kazakh opposition, co-chairman of the Naghyz Aq Zhol party, former minister of information, former Kazakh ambassador to Russia, former secretary of Kazakhstan's Security Council -- is found dead with his bodyguard and his driver, shot to death, execution style, with their hands bound behind their backs.
November 11, 2005: Zamanbek Nurkadilov-- prominent Kazakh politician, former mayor of Almaty, former Minister of Extraordinary Situations, and since a vocal critic of President Nursultan Nazarbaev since March 2004 -- is found shot to death, with two shots in his chest and one in his head. Kazakh authorities officially rule the case a suicide.
June 2, 2005: Batyrkhan Darimbet -- opposition journalist and editor in chief of the weekly AZAT -- is killed in what is officially reported as a traffic accident. Relatives and activists assert that it was a political killing.
December 19, 2004: Erzhan Tatishev -- head of Kazakhstan's largest bank, TuranAlemBank -- is killed in what was officially described as a hunting accident. Kazakh political observers allege that it was a premeditated assassination.
July 20, 2004: Askhat Sharipzhan-- independent journalist and political commentator for NAVI online -- dies of injuries sustained several days earlier in what was officially reported as a hit-and-run accident. Relatives and colleagues believe it was an assassination.
November17, 2002: Independent journalist Nuri Muftakh is killed in what is officially reported as a traffic accident. Colleagues and activists regard the death as suspicious.
January 4, 2002: Human rights activist Aleksei Pugaev is found dead, the victim of a hit-and-run car accident. Colleagues regard the circumstances as suspicious and no one is ever arrested in connection with the death.
(compiled by RFE/RL's Kazakh Service)
RELATED ARTICLES
Sarsenbaev Murder Trial Begins
Kazakh President Tries To Calm Growing Political Crisis
Nazarbaev Landslide Buries Future Problems
Nazarbaev Touts Stability In Run-Up To Election
ARCHIVE
To view an archive of RFE/RL's coverage of Kazakhstan, click here.

SUBSCRIBE
For weekly news and analysis on all five Central Asian countries by e-mail, subscribe to "RFE/RL Central Asia Report."